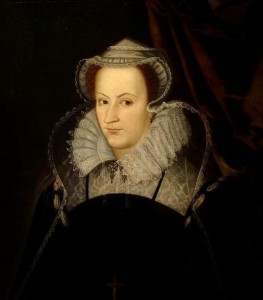 Here's a brief bio of Mary, Queen of Scots:
Mary, Queen of Scots, was born at Linlithgow Palace in Scotland on 8th December 1542. She was the daughter of James V of Scotland and his second wife, Mary of Guise, and the granddaughter of Margaret Tudor (Henry VIII's sister) and James IV of Scotland. On the 14th December, when she was just six days old, Mary became Queen of Scotland after her father died of a fever. She was crowned Queen on 9th September 1543 at Stirling Castle. As Mary was a baby, James Hamilton, 2nd Earl of Arran, acted as regent until 1554 when he surrendered the regency to Mary's mother, Mary of Guise, who acted as regent until her death in 1560.
At the age of five, Mary was sent to France after the marriage between her and François, the French Dauphin, had been agreed in a treaty in 1548. As the future queen consort of France, she received an excellent education and showed herself to be an excellent linguist. She married Francis (François) on the 24th April 1558 at Notre Dame Cathedral in Paris. She was 15 and her husband was 14. Henry II of France died in July 1559, and Mary's husband became Francis II of France. The couple already believed that they were King and Queen of England, Henry II having proclaimed them so after Mary I's death in 1558. Although Elizabeth I was Queen of England, having been named as next in the succession after Mary I in her father's will, many Catholics did not accept Elizabeth as Queen, because they believed her to be illegitimate, and believed that Mary Stuart was the true queen.
Francis II died on 5th December 1560, and Mary returned in August 1561 to her homeland of Scotland, a country divided by religious conflict. Although she was a staunch Catholic, she tolerated Protestants and had many Protestants on her Privy Council.
On the 29th July 1565, Mary married her second husband, Henry Stuart, Lord Darnley, at Holyrood Palace. The marriage broke down when Darnley was involved in the murder of Mary's secretary, David Rizzio, who was actually murdered in front of a pregnant Mary. The couple's son, James, the future James VI (James I), was born on 19th June 1566, and was just eight months old when his father, Darnley, was killed in an explosion at Kirk o' Field in February 1567. Mary went on to marry James Hepburn, 4th Earl of Bothwell, a man implicated in Darnley's murder, after allegedly being abducted and raped by him in April 1567. The couple married at Holyrood on the 15th May 1567. The Scottish nobility did not approve of the match, and raised an army against Bothwell and Mary. Mary was imprisoned in Loch Leven Castle where, in July 1567, she miscarried twins. On the 24th July 1567 she was forced to abdicate, and her son became James VI of Scotland with Mary's illegitimate half brother, James Stewart, Earl of Moray, acting as Regent.
Mary managed to escape from Loch Leven on the 2nd May 1568, and fled to England where she was placed in protective custody in Carlisle Castle under the orders of Elizabeth I. She was to spend the rest of her life as a prisoner, being moved from Carlisle to Bolton Castle in July 1568, from Bolton to Tutbury Castle in January 1569, from Tutbury to Wingfield Manor, Chatsworth and Sheffield Castle and then back to Tutbury, from Tutbury to Chartley in December 1585, and finally to Fotheringhay Castle in 1586.
On her arrival in England in 1568, Mary had expected Elizabeth to support her in her endeavour to win back the throne of Scotland, but Elizabeth was unwilling to help a woman who was implicated in the murder of her second husband, Lord Darnley, and who refused to ratify the Treaty of Edinburgh. Mary was a threat to Elizabeth, as was shown by the Ridolfi Plot of 1570, a plot to assassinate Elizabeth and replace her with Mary. Mary denied any involvement in the plot, but was implicated in the Babington Plot of 1586 after Sir Francis Walsingham intercepted letters in which Mary gave her support for an attempt on Elizabeth I's life. Mary was tried for treason in October 1586 and found guilty. Parliament and Elizabeth's Privy Council put pressure on Elizabeth to execute Mary, but Elizabeth was unwilling to sign the death warrant of a fellow sovereign, who she believed to be appointed by God, and also a woman with Tudor blood. Elizabeth finally signed Mary's death warrant on the 1st February 1587 and it was delivered, without the Queen's knowledge to Fotheringhay, where the sentence was carried out on the 8th February 1587. She was buried first at Peterborough Cathedral and then moved to Westminster Abbey by her son James I in 1612. He erected a beautiful marble tomb for her, topped with an effigy. You can read a translation of the Latin inscription on the tomb at http://www.westminster-abbey.org/our-history/royals/mary-queen-of-scots
(Taken from On This Day in Tudor History by Claire Ridgway)