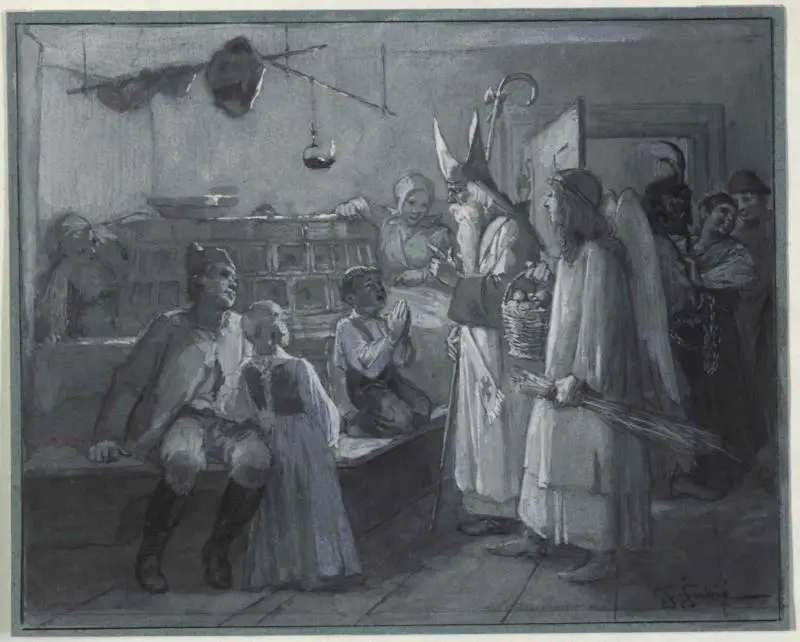 The 6th December was and is the feast of St Nicholas, or St Nicholas of Myra, the 4th century Bishop of Myra (modern-day Demre in Turkey), who is the patron saint of children, as well as sailors, merchants, archers, repentant thieves, brewers, pawnbrokers and students.
In medieval and Tudor times, it was traditional for a choirboy to be chosen on 6th December or Childermas (Holy Innocents' Day) as "Boy Bishop" to act as bishop and to lead processions around communities, collecting money for the church and parish funds, and to lead some religious services.
As Ronald Hutton points out in his book, The Stations of the Sun, this tradition was "a reaffirmation of Christ's own teaching about the special relationship of children to the kingdom of heaven, and of the Church's especial respect for innocence and purity – a celebration of norms" and that it was also widespread: "it is therefore attested at every cathedral in Britain at which a medieval archive has survived."
Text taken from our December Feast Days page. You can read more about feast days in Tudor times in our special Tudor Society Feast Days e-book.
Picture: A 19th-century depiction of St Nicholas visiting children by Jurij Šubic.