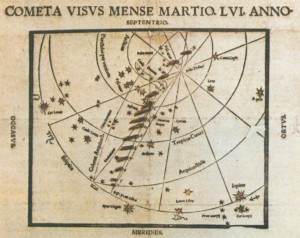 7th March 1556 was one of the days on which the Great Comet, or the Comet of Charles V, was seen and recorded by Paul Fabricius, mathematician and physician at Emperor Charles V's court.
In the 1848 book On the expected return of the great comet of 1264 and 1556, J. R. Hind writes of how the comet was observed by Fabricius but that his publication printed that year was no longer extant and all that remained was "a small rough chart found in the works of Lycosthenes and other authors". This chart is pictured here.
Hind writes of how the chart shows that "On the 7th it was in 5° of Libra, and had the same declination as ϵ Virginis ; consequently the north latitude would be about 17°." He adds that "On March 15th, Fabricius observed the comet for the last time, in about 20° of Aries, with a north latitude of 72° or 74°."
You can read Hind's work on Google Books.