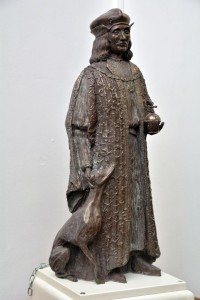 It seems strange that Pembroke, birthplace of Henry VII, founder of the Tudor dynasty, does not have a statue of the king, doesn't it? However, hopefully this will soon be rectified.
In January of this year, a maquette of a proposed bronze statue was unveiled at a fundraising events organised by Pembroke & Monkton Local History Society in Pembroke Town Hall. The statue will cost around £40,000 and Pembroke Town Council have allocated £20,000 of that as part of their Town Centre Support programme. The remaining £20,000 has to be raised.
Pembroke's Henry VII Statue Fundraising Appeal Facebook page explains:
"The Henry VII Statue Fund aims to raise £20,000 in order to commission a larger than life-size, bronze statue of Henry VII to be displayed on Pembroke's Mill Bridge, within sight of the Castle where he was born. Pembroke is the birthplace of the Tudor dynasty and we intend that the statue will raise awareness of the town's historic importance and help to attract additional visitors to the town."
This is definitely a worthwhile campaign.
Author Nathen Amin who runs the Henry Tudor Society Facebook page and blog explains how you can help:
"Ideas for fundraising as well as donations will be appreciated, Please ccontact Suzie Thomas 'Henry VII Statue Appeal' Pembroke Town Hall, Main Street, Pembroke 01646 683092 or email [email protected]
IF YOU ARE LOOKING TO HELP FUND THE STATUE AND WANT TO DONATE; then please make cheque donations out to –
'Henry VII Statue Fund' and addressed to Henry VII Statue Fund, c/o Pembroke Town Clerk, Pembroke Town Hall, Main Street, Pembroke, SA71 4JS"
You can follow progress on the appeal's Facebook page at https://www.facebook.com/henryviistatue/timeline.
If you can get hold of a copy of Pembrokeshire Life magazine there is a interview with sculptor, Harriet Addyman, who is in charge of creating the statue of Henry VII.
For more information on Pembroke Castle, where Henry VII was born, and visiting the castle, see http://pembroke-castle.co.uk/.
Image: Maquette of the proposed Henry VII statue, WalesOnline.