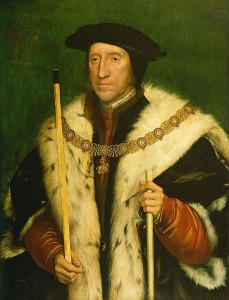 On this day in Tudor history, 4th February 1495, in the reign of King Henry VII, a wedding took place at Westminster Abbey in London. It was the wedding of Anne of York and Thomas Howard, Earl of Surrey.
Let me tell you a bit more about the bridge and groom...

The bride, Anne of York was the fourth surviving daughter of King Edward IV and Elizabeth Woodville and was born on 2nd November 1475, making her nineteen years of age at her wedding. Her father had once intended for her to marry Philip, son of Maximilian I, but it never happened.
Anne's eldest sister, Elizabeth of York, married Henry VII in 1485. Anne carried the chrisom at the christening of her nephew, Arthur Tudor, Prince of Wales's christening, and in 1487 she succeeded her eldesr sister Cecily as Elizabeth of York's First Lady of the Bedchamber. When Elizabeth gave birth to her eldest daughter, Margaret Tudor, Anne carried the chrisom at Margaret's christening.
The man Anne married in 1495 was Thomas Howard, eldest son of Thomas Howard, 2nd Duke of Norfolk, and his first wife, Elizabeth Tylney. The Howards had a long history of service to the monarch, but the family were in the doghouse after Henry VII came to the throne because Thomas's father and grandfather had been loyal to Richard III and had both fought on his side at the Battle of Bosworth against Henry. Fortunately, the king didn't hold it against the young Thomas and allowed him to marry his sister-in-law. Thomas was about twenty-one when he married Anne.
Keen to prove his loyalty to Henry VII, Thomas fought for the Crown against the Cornish rebels and the Scots in 1497, fighting the Scots under his father's command. He was knighted that September.
Henry VIII came to the throne in 1509 and the following year saw Thomas being made a Knight of the Garter. The new king also granted Anne and Thomas lands in compensation for her rights, but sadly Anne did not live long enough enjoy her lands. She died in late 1511 and was buried at Thetford Priory. Her remains were later moved to St Michael's Church in Framlingham.
Thomas and Anne had four children together, but none survived childhood and they were all dead by Anne's death in 1511.
Thomas remarried in early 1513, taking Elizabeth Stafford, daughter of Edward Stafford, 3rd Duke of Buckingham as his wife. Their children included Henry Howard, Earl of Surrey, Thomas Howard, and Mary Howard, Duchess of Richmond and Somerset. The marriage was not happy, Thomas took a mistress, Elizabeth Holland, and his wife accused him ot locking her away, taking her jewels and physically assaulting her.
Thomas became 3rd Duke of Norfolk in 1524 and climbed to dizzying heights in royal service, being appointed as Earl Marshall and Lord High Steward. He was, however, imprisoned and his son, Surrey, executed, in the final days of Henry VIII's reign.
Here's my video on Norfolk's life and career:
Image: Portrait of Thomas Howard, 3rd Duke of Norfolk, by Hans Holbein the Younger. Norfolk holds the gold baton of Earl Marshal and the white staff of Lord High Treasurer, and wears the Order of the Garter.