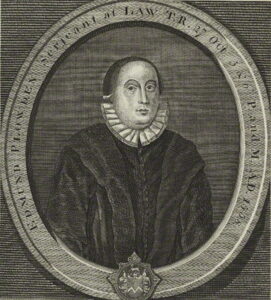 On this day in Tudor history, 6th February 1585, lawyer, legal scholar and law reporter, Edmund Plowden, died in London.
Plowden was laid to rest in the Middle Temple Church.
Cambridge University's libraries and the British Library contain manuscripts of his commentaries and opinions, and he is known for his 1571 volume of law reports covering cases during the reigns of Edward VI, Mary I and Elizabeth I.
Here are some facts about Edmund Plowden:
He was born in around 1519/20 and was the son of Humphrey Plowden of Plowden Hall, Shropshire, and his wife, Elizabeth Sturry.
He was educated at Cambridge University, Middle Temple and Oxford University.
Plowden was also a qualified physician and surgeon.
In Mary I's reign, he served as a member of Parliament for Wallingford, Reading and Wootton Bassett.
His Catholic faith and legal expertise led to him becoming involved in the legal defence of Catholics bishops such as Edmund Bonner, former Bishop of London, and Robert Horne, Bishop of Winchester, in 1565, in Elizabeth I's reign.
His works included his 1571 "Les comentaries ou les reportes de Edmunde Plowden", "Quares del Monsieur Plowden", and a treatise regarding Mary, Queen of Scots' claim to the throne.
Plowden married once. His wife was Catherine Sheldon and they had three sons and two daughters together.
You can read Plowden's legal reports, translated into English, at https://archive.org/details/commentariesorr00plowgoog/page/n4/mode/2up
Image: A line engraving of Edmund Plowden by T. Stayner.
Also on this day in Tudor history...