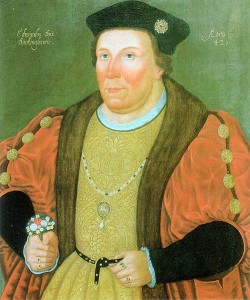 On 3rd February 1478, in the reign of King Edward IV, Edward Stafford, 3rd Duke of Buckingham, was born at Brecon Castle.
His father, the 2nd Duke of Buckingham, was executed as a traitor in Richard III's reign and Edward came to the same end in 1521, in King Henry VIII's reign.
Let me tell you a bit more about this Duke of Buckingham...
Edward Stafford was the eldest son of Henry Stafford, 2nd Duke of Buckingham, and his wife, Catherine Woodville, sister of Elizabeth Woodville, who was of course King Edward IV's queen consort.
His father was executed in November 1483 after rebelling against King Richard III and young Edward went into hiding.
Henry VII came to the throne in 1485, following his victory over Richard III at the Battle of Bosworth and Edward became a Knight of the Bath in the celebrations for the new king's coronation in October 1485. The following month, his father's attainder was was posthumously reversed, allowing Edward to become Duke of Buckingham. His mother married Henry VII's uncle, Jasper Tudor, but seven-year-old Edward's wardship was granted to Lady Margaret Beaufort, Henry VII's mother, who was then in charge of his education.
Henry VII had been keen on a potential marriage match between Buckingham and Anne, Duchess of Brittany, but Edward ended up marrying Eleanor Percy, daughter of the late 4th Earl of Northumberland, in 1490. The couple went on to have four children: Elizabeth, who married Thomas Howard, 3rd Duke of Norfolk; Catherine, who married Ralph Neville, 4th Earl of Westmorland; Mary, who married George Neville, 5th Baron Bergavenny; and Henry Stafford, 1st Baron Stafford, who married Ursula Pole.
Buckingham also had two illegitimate children, a son, Henry, and a daughter, Margaret. Margaret married her father's ward, Thomas Fitzgerald
In 1495, when he was seventeen, Buckingham became a Knight of the Garter and three years later the king granted him livery of his estates.
In 1497, the same year his first child, Elizabeth, was born, Buckingham served as a soldier in the king's forces against pretender Perkin Warbeck.
In 1501, he attended the marriage of Arthur Tudor, Prince of Wales, and Catherine of Aragon, and was the chief challenger at the celebratory jousts.
In 1509, following the death of King Henry VII and the accession of seventeen-year-old Henry VIII, he served as Lord High Constable and Lord High Steward at the new king's coronation, and in 1513 he commanded forces in the king's French campaign.
In 1510, Buckingham heard rumours that his sister, Anne, Lady Hastings, was committing adultery with Sir William Compton, a man close to Henry VIII. Compton swore on the sacrament that he had not had an affair with Anne, while Buckingham sent his sister away to a convent.
In around 1517, Buckingham was supposed to be a challenger running against the king and others in a tournament, but he pulled out, not wanting to run against the king, and in 1520, at the Field of Cloth of Gold meeting between Francis I of France and Henry VIII, Buckingham did not tilt, taking the role of judge of the tournaments instead.
Buckingham had Plantagenet blood, descending from John of Gaunt and Thomas of Woodstock, both sons of Edward III, and he and Cardinal Wolsey, the king's chief advisor did not get on. This made him vulnerable, and in April 1521 the duke was arrested, accused of treason. His chancellor, chaplain, an ex estate official and a Carthusian monk gave evidence against Buckingham, accusing him of listening to the monk's political prophecies since 1512. These prophecies had said that Buckingham would one day be king. It was said that Buckingham also believed that the king's lack of a living male heir was due to a curse on the Tudors which dated back to the execution of potential claimant to the throne, Edward Plantagenet, Earl of Warwick, son of George, Duke of Clarence, in 1499.
In his trial, which began on 13th May 1521, Buckingham was accused of trying to bribe members of the king's guard, trying to build a following and plotting to depose the king. In his book, "The Tudors: A Very Short Introduction", historian John Guy writes that Buckingham's downfall was down to Henry VIII's fear of his wealth and his old Yorkist connections and that he was put on trial on trumped up charges and that the evidence was just hearsay. Guy goes on to say "The Duke protested that his trial was rigged, for Henry interviewed and even coached the witnesses beforehand, forcing information out of Buckingham's chaplain and so breaking the seal of the confessional." Buckingham's complaints didn't help. On 16th May, he was found guilty of treason by a jury of his peers and sentenced to death.
Buckingham was executed by beheading on Tower Hill on 17th May 1521. He was buried at he Church of the Austin Friars in London.
In 1523, Buckingham was posthumously attainted by Parliament, preventing his children inheriting his title or lands.
John Guy concludes that Buckingham's case taught Henry VIII "that, rather than bypassing the law as his father's bureaucrats had sometimes done, he could instead subvert it, getting everything he wanted, apparently legally". Others would suffer from trumped up charges and rigged trials in his reign. This was just the beginning.