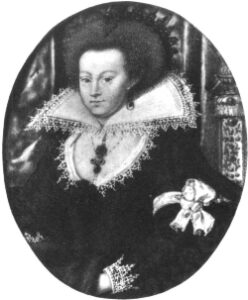 On either 24th or 25th February 1618, sixty-five-year-old literary patron Elizabeth Carey (née Spencer), Lady Hunsdon, wife of Sir George Carey, 2nd Baron Hunsdon, died from what was described "a palsie", probably a stroke. She was buried at Westminster Abbey, in the Hunsdon family vault.
Let me tell you a few facts about this Tudor lady…
Elizabeth was born on 29th June 1552 at Althorp in Northamptonshire, and was the sixth child of Sir John Spencer and his wife, Katherine Kitson.
Elizabeth married Sir George Carey, eldest son of Henry Carey, Baron Hunsdon, and grandson of Mary Boleyn, in December 1574. Their marriage was a happy one, with Carey describing her as "the sweetest Companion that ever Man hathe found in this lief" in his will. They had one child, a daughter, Elizabeth, born in 1576, whose godmother was Queen Elizabeth I.
Carey died in 1603 and Elizabeth went on to marry Ralph Eure, 3rd Baron Eure, in late 1612 or early 1613.
Elizabeth is known for being a literary patron and had works by Edmund Spenser, Thomas Nashe, Thomas Churchyard, Thomas Playfere, Abraham Fleming and Henry Lok dedicated to her. Edmund Spenser wrote of her as "Phyllis the floure of rare perfection". Composer John Dowland also enjoyed her patronage.
Elizabeth's daughter, Elizabeth, married Sir Thomas Berkeley, with whom she had two surviving children, and then, after his death, Sir Thomas Chamberlain. She was also a patron of the Arts, acting as patron to the likes of playwright and poet Thomas Nashe and composer John Dowland.
Also on this day in Tudor history...
Image: A miniature of Elizabeth Carey (née Spencer), Baroness Hunsdon, by Nicholas Hilliard.