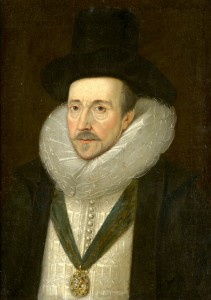 On this day in Tudor history, 24th February 1540, in the reign of King Henry VIII, courtier, author and administrator, Henry Howard, Earl of Northampton, was born at Shottesham in Norfolk.
Northampton was the second son of courtier and poet Henry Howard, Earl of Surrey, and his wife, Lady Frances de Vere.
Let me give you a few facts about this Tudor earl...
In 1548, following the execution of his father for alleged treason in 1547, eight-year-old Northampton was put into the care of his aunt, Mary Howard, Duchess of Richmond, who appointed Protestant John Foxe, the famous martyrologist, and scholar Hadrianus Junius to educate him and his brothers.
Between 1553 and 1558, the teenage Northampton served the Catholic John White, Bishop of Lincoln, as a page.
In 1559, following the accession of Elizabeth I, he was restored in blood and his father's attainder reversed. The queen paid for him to attend King's College, Cambridge, to study classics. He went on to study law at Trinity Hall and also did a masters at Oxford.
Although his father was of the reformed faith and he'd been tutored by John Foxe, Northampton seems to have been influenced by his time with Bishop White and was of the Catholic persuasion.
In Elizabeth I's reign, he went through periods of disfavour due to his links with Catholics. He was arrested in 1571 due to his brother Thomas Howard, 4th Duke of Norfolk's involvement in plots against the queen and his interest in marrying Mary, Queen of Scots, and he was actually imprisoned five times. However, he rose in favour in the late 1590s due to his friendship with the Earl of Essex. Fortunately for Northampton, by the earl's revolt in 1601, he had distanced himself from Essex and was allied with the Cecil faction at court.
In Elizabeth I's last two years, Northampton acted as messenger for Robert Cecil, taking letters to King James VI of Scotland, thus securing the king's favour for himself and Cecil. When the Scots king heard of Elizabeth's death, he sent Northampton a jewel as a gift.
Northampton went on to serve James I as a privy councillor, constable of Dover Castle, lord warden of the Cinque Ports, and Lord Privy Seal.
He was created Baron of Marnhull, Dorset, and Earl of Northampton in 1604.
In 1605, Northampton was one of the king's councillors to whom Lord Monteagle took the anonymous letter warning of the Gunpowder Plot, and he made a speech at the trial of the conspirators in January 1606.
Northampton reached the zenith of his career under King James I, being the most influential privy councillor by 1613, thanks to his good relationship with Sir Robert Carr, who was close to the king. However, this friendship with Carr led to Northampton's involvement in the Overbury Case. Sir Thomas Overbury, a good friend and previous mentor of Carr, opposed the match of Carr and Northampton's married niece, Frances, who was seeking a divorce. He tried to persuade Carr out of the relationship, so Northampton conspired against Overbury, who was eventually imprisoned in the Tower of London. Overbury was poisoned to death in the Tower in September 1613, and Carr married Frances. The couple were found guilty of his murder in 1616 and sentenced to death. They weren't put to death, though, they were imprisoned but then released in 1622. Northampton escaped punishment because he died on 16th June 1614 at his home in Charing Cross.
Northampton never married.
As well as being a courtier and administrator, Northampton was an author. His works included the 1569 Treatise of Natural and Moral Philosophy, the 1583 A Defensative against the Poyson of supposed Prophecies, a Translation of Charles V's Last Advice to Philip II, devotional writings, his A dutiful defence of the lawful regiment of women, which was a reply to John Knox's criticism of female rulers, and his 1606 The true and perfect relation of the whole proceedings against the late most barbarous traitors, Garnet, a Jesuite, and his confederats, about the Gunpowder plotters.
Also on this day in Tudor history...