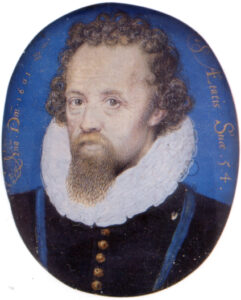 On this day in Tudor history, 26th February 1548, in the reign of King Edward VI, George Carey, 2nd Baron Hunsdon, was born. He was the eldest son of Henry Carey, 1st Baron Hunsdon, and Anne Morgan, and the grandson of Mary Boleyn.
Here are some facts about him:
Hunsdon was educated at Trinity College Cambridge.
In May 1570, he was knighted for his military service during the 1569 Northern Rebellion.
In 1578, he was made Marshal of the household, and in 1583, he was made Constable of Bamburgh Castle and Captain of the Isle of Wight.
Hunsdon served as a Member of Parliament for Hertfordshire in 1571, for Canterbury I 1572, and for Hampshire on several occasions. He was also a Justice of the Peace for Hertfordshire in the 1580s and Lord Lieutenant of Hertfordshire in the 1590s.
He served Queen Elizabeth I on missions to the Low Countries in 1578 and to Scotland in 1582.
Following his father's death in July 1596, George succeeded him as captain of the queen's gentleman pensioners, and then in 1596 as a privy councillor and lord chamberlain. He also became 2nd Baron Hunsdon.
Like his father, George was a patron of the theatre and supported the company known as the Lord Chamberlain's Men.
George was elected to the Order of the Garter in 1597.
Ill health led to him giving up his post as Lord Chamberlain in May 1603 and he died on 8th September 1603. As George only had a daughter, his younger brother, John, became 3rd Baron Hunsdon.
His wife was, of course, Elizabeth Spencer, daughter of Sir John Spencer and Katherine Kitson. See yesterday's post for more on Elizabeth.
Also on this day in Tudor history...
Image: Miniature of George Carey, 2nd Baron Hunsdon, by Nicholas Hilliard