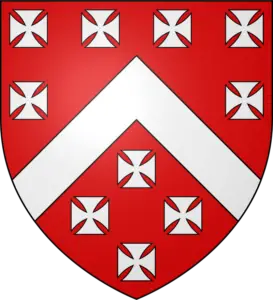 On this day in Tudor history, 14th February 1492, in the reign of King Henry VII, magnate William Berkeley, Marquess of Berkeley, died. He was buried in the Augustinian friary in London with his second wife, Joan.
Berkeley is known for his involvement in the 1470 Battle of Nibley Green, the last English battle fought between private armies of feudal magnates. The Berkeleys and the Talbots had a feud over the Berkeley title and estates and this came to a head when Thomas Talbot, 2nd Viscount Lisle, challenged William Berkeley to battle. Berkeley accepted and the two men and their private armies clashed at Nibley Green in Gloucestershire. Berkeley's force, which far outnumbered Lisle's, defeated Lisle and Lisle was killed.
Quite an accomplishment, yet the family historian, John Smyth of Nibley, in the 17th century, called Berkeley "William the Wass all" or William the Waste All.
Why?
Well, in 1476, he ha surrendered his reversionary rights to the Mowbray inheritance to Prince Richard, son of Edward IV, and then, following King Henry VII's accession to the throne, Berkeley used the Berkeley lands to "buy advancement", granting lands to William Stanley and even granting King Henry VII the reversion of Berkeley Castle if Berkeley were to die without a surviving male heir, which he did on 14th February 1492. Historian Rosemary Horrox writes "Only with the end of the male Tudor line at the death of Edward VI were the Berkeleys able to regain some of their alienated estates." At least they did, though.
14th February is of course Valentine's Day! Was it celebrated in Tudor times?
Yes.
Find out more in this video:
Also on this day in history...
Image: Arms of Berkeley, Gules, a chevron between 10 crosses pattée 6 in chief and 4 in base argent.