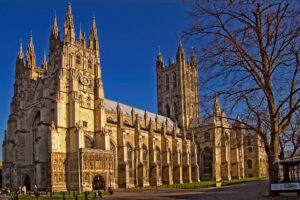 On this day in Tudor history, 15 February 1503, Henry Deane, administrator and Archbishop of Canterbury, died at Lambeth Palace at around the age of 63. He was laid to rest at Canterbury Cathedral in a lavish funeral.
Deane was the last monk to become Archbishop of Canterbury.
Let me give you a few facts about this archbishop...
We do not know Henry Deane's birthdate or the names of his parents, but it's thought that he was born in around 1440, in the Forest of Dean part of Gloucestershire.
The first mention of Deane in the records is in 1457 when he became canon of Llanthony in Gloucestershire.
He was educated at Llanthony, an Augustinian priory, and then at Oxford, probably at Exeter College, where he is known to have rented rooms.
He became prior of Llanthony in 1467 and kept that office until 1501.
Ten years later, in 1477, in the reign of King Edward IV, he was serving as a royal chaplain.
In 1481, Deane was able to join the priory of Llanthony Prima in Monmouthshire to his own priory, paying the king 300 marks to do so. He also instituted a programme of building works at his priory. He even added his own arms to the gatehouse, which 19th century antiquary Walter Farquhar Hook describes as "a chevron between three birds", which Hook states are like Danish ravens.
In 1485, Henry VII came to the throne and Deane was able to continue in royal favour, being awarded with grants for his priory. Hook believes that Deane owed much to John Morton, Archbishop of Canterbury, and Robert Morton, Bishop of Worcester, for his rise.
In 1489, Deane was admitted to Lincoln's Inn, one of London's inns of the court, and he became a royal councillor, and then, in 1494, chancellor of Ireland serving Prince Henry, who was Lord Lieutenant, but really only in an honorary role, so Deane was really serving under the Lord Deputy of Ireland, Sir Edward Poynings. Deane was promoted to the positions of deputy governor and justiciar of Ireland in 1496 after Poynings had returned to England, but he himself left Ireland in that August.
In 1494, he was made Bishop of Bangor, accomplishing wonders, according to Hook, in a bishopric which had been left in a deplorable state. He set about restoring the cathedral and rebuilding the palace. In December 1499 Henry VII chose Deane as Bishop of Salisbury and by this time, Hook writes that Deane "had recovered nearly all the lost rights and property of the see" of Bangor. He was concerned about leaving Bangor and made sure that the building work would continue there before he left for Salisbury.
In 1500, Deane was made Registrar of the Order of the Garter.
In October 1500, Deane was made Keeper of the Great Seal, following the death of John Morton, Archbishop of Canterbury, and, following the death of Thomas Langton, Morton's successor as Archbishop, in January 1501, Deane became Archbishop of Canterbury.
Harper-Bill writes that "He was the first religious to be elevated to Canterbury for 135 years, and he was, of course, the last."
In November 1501, Deane officiated at the wedding of Arthur, Prince of Wales, and Catherine of Aragon, being assisted by no less than 19 bishops. Then, he was chief commissioner for the Treaty of Perpetual Peace of 1502, between King Henry VII and his Scottish counterpart, King James IV, whose terms included the marriage of Henry's eldest daughter, Margaret, to the Scottish king.
In July 1502, a sickly Deane resigned the great seal.
Deane died at the archbishop's palace at Lambeth on 15th February 1503. Hook describes what happened next to the Archbishop's remains:
"A barge, with funeral trappings, was moored at the steps of Lambeth manor house. Thirty-three sailors arrayed in black, and each bearing a lighted candle, received the coffin, and watched the corpse during its progress down the Thames, until they arrived at Faversham. At Faversham a funeral car had been provided. On it was laid the coffin, surmounted by an effigy of the archbishop, sumptuously arrayed in his pontificals. Fifty torches blazed around the dead man, thus lying as it were in state, and sixty gentlemen followed on horseback.
On the feast of St. Matthias the apostle, the 24th of February, the interment took place in Canterbury cathedral, according to the injunctions of the defunct, in the martyrdom, near the grave of archbishop Stafford."
A marble stone with a monumental brass marked his grave, although these are now lost.
Unfortunately, although Deane had planned for masses to be said for his soul for 20 years, and had left plenty of money for this and his funeral, his executors were neglectful in their duties and it is said that masses were only said for a few weeks. Sad.
Also on this day in Tudor history...
Image: Photograph of Canterbury Cathedral by Antony McCallum