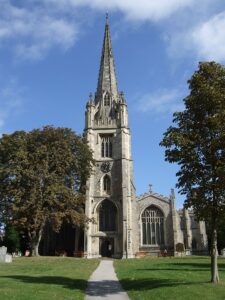 On this day in Tudor history, 13th February 1564, in the reign of Queen Elizabeth I, astrologer and physician John Harvey was baptised at Saffron Walden in Essex.
Harvey was the third son of farmer and rope maker John Harvey and his wife, Alice. His brothers were renowned scholar Gabriel Harvey and astrologer and theologian Richard Harvey.
After a Cambridge education, Harvey worked as a tutor in the household of Justice Thomas Meade and was recorded as stealing away Meade's daughter, Martha, whom he married in 1583. He went on to practise medicine in King's Lynn in Norfolk and died there in 1592 when he was just twenty-eight years old. He was survived by his wife and two little girls.
Harvey's published works included the 1583 "An Astrologicall Addition", which he dedicated to his father-in-law; a series of almanacs, which were dedicated to his father-in-law, and also Sir Thomas Bromley, and Sir Christopher Hatton, and the 1588 "A Discoursive Probleme Concerning Prophesies". The 1583 work wasn't a standalone work, it was written as a supplement to his brother Richard's work "Astrological Discourse" which was about the 1583 great conjunction of Saturn and Jupiter. Unfortunately, as John Harvey's biographer, Bernard Capp, notes, the publication of the books, which includes prophecies of apocalyptic events led to John and Richard being ridiculed due to the failure of their astrological prophecies.
Also on this day in Tudor history...