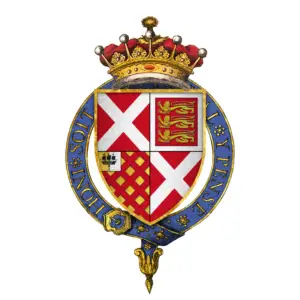 On this day in Tudor history, 10th February 1564, in the reign of Queen Elizabeth I, Henry Neville, 5th Earl of Westmorland, died at Kelvedon in Essex.
Neville was born in around 1524/1525 and was the eldest son of Ralph Neville, 4th Earl of Westmorland, and his wife, Catherine Stafford. His maternal grandfather was Edward Stafford, 3rd Duke of Buckingham.
In 1536, at the age of 11 or 12, Neville was taken hostage by the rebels of the Pilgrimage of Grace to ensure his father's co-operation. In January 1540, he accompanied King Henry VIII to Blackheath for the reception of his bride-to-be, Anne of Cleves. He served Henry VIII as a soldier in his French campaign and as carver, He served as a privy councillor in Edward VI's reign and was made a Knight of the Garter in 1552. When Edward VI was dying, Neville signed the letters patent naming Lady Jane Grey as his successor. However, he swapped sides shortly after Edward's death, declaring for Mary I, and bore the Second Sword and Cap of Maintenance at her coronation in October 1553.
He died on 10th February 1564 and was buried at Staindrop. His only surviving son, Charles, became 6th Earl of Westmorland.
Neville was married three times. Firstly, in 1536, to Anne Manners, daughter of Thomas Manner, 1st Earl of Rutland; secondly to Jane CHUMLEE Cholmeley, daughter of Sir Roger Cholmeley, and then thirdly to her sister, Margaret. By his first wife, he had a daughter, Eleanor, and a son, Charles.
Trivia: Neville got into trouble a couple of times. In 1546, he was imprisoned in the Fleet due to debts from gambling and for allegedly plotting the death of both his wife and his father. He had purchased a magic ring which was supposed to give him angelic assistance to help him with his debt, but that obviously didn't work! Then, in 1552, he was accused of plotting to steal treasure from Middleham and to rob his mother. He was imprisoned temporarily.