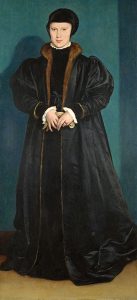 Thank you to Heather R. Darsie for writing this article on Christina of Denmark...
Christina Oldenburg, born a Princess of Denmark and Norway, entered the world in November of 1521 or 1522. Being the daughter of Isabella of Austria, Christina was the niece of the Holy Roman Emperor, Charles V. Her father was King Christian II of Denmark and Norway. Christian II was deposed in January 1523, when the infant Christina was still quite small, and the family fled to the Netherlands. At that time, the Netherlands were under the regency of her maternal great-aunt, Margaret of Austria. Christina would never return to the country of her birth.
Christina was married twice. First, in 1533, she was wed to Francesco II Sforza, Duke of Milan, by proxy. She went to live in Milan in 1534. As part of the marriage contract, if Francesco died without any heirs, the Duchy of Milan would become part of the Holy Roman Empire. Francesco died in October of 1535, and the Duchy of Milan was indeed incorporated into the vast territories of the Holy Roman Empire. Another condition of the marriage contract was that should she become a widow, Christina would retain her rights to the city of Tortona for the rest of her life.
By 1537, Christina had assumed the title of Lady of Tortona. In mourning, Christina returned to the Low Countries, which were now under the regency of her maternal aunt, Mary of Hungary. Mary was sister to both Christina's mother Isabella and Christina's uncle, Charles V, Holy Roman Emperor. Christina briefly visited her elder sister Dorothea in Innsbruck on the former's way to Brussels. Once at the court of her aunt, a suitable husband was sought for Christina.
Christina, not unlike her sister Dorothea, had many possible suitors. Going back to when Christina remained as a widow in the ducal palace in Milan, her first proposed suitor was Louis of Piedmont, heir to the throne of Savoy. Louis died before the marriage could take place. It was next suggested by Pope Paul III that Christina marry her foster son, who was also the great-nephew of the Pope. A French husband was proposed for Christina, too. There had been a long dispute over who held the rights to the Duchy of Milan, and France sought to solidify its claim through the marriage of Christina to the Duke of Angoulême. Charles V and the French king were unable to agree on terms regarding the fate of the Duchy of Milan, so this marriage came to naught.
Moving forward to Christina's return to Brussels, she was famously painted by Hans Holbein the Younger in early 1538. Dressed in mourning clothes, Holbein had been sent by Henry VIII of England to capture Christina's likeness while Henry's ambassador floated the idea of marriage. Christina is reported to have responded, "If I had two heads, one should be at the King of England's disposal." It should be noted that Christina was a great-niece of Henry's first wife, Katharine of Aragon. Mary of Hungary objected to the proposal and Henry was forced to abandon his suit in early 1539.
After that, Anna von Kleve, better known as Anne of Cleves, almost became sisters-in-law with Christina when Anna's brother Wilhelm proposed marriage to Christina. Due to a dispute over territory which Wilhelm recently inherited, Charles V turned away Wilhelm's proposal. Christina went on to marry Anna's ex-fiancé, Francis, Duke of Bar, in July 1541. Sadly, this marriage put an end to a possible love-match which Christina would have enjoyed with René de Chalon, Prince of Orange. Her sister Dorothea supported the relationship, but ultimately, Christina had to marry Francis.
As Duchess-Consort of Lorraine, Christina enjoyed a reportedly happy marriage and gave birth to a son in February 1543. She had two daughters later, one of whom was named after her sister Dorothea. By June of 1545, Christina was widowed again. She became regent for her young son, but there was opposition from her brother-in-law. After mediation by her uncle, Charles V, it was agreed that Christina would be the main regent, but share the regency with her brother-in-law.
Christina never remarried, though she received more proposals. During wars with France in 1552, her son was taken by the French king and Christina's regency was ended. Christina did not see her son again until 1558. In the meantime, she remained in Brussels. Christina did travel to England in April 1555 to Mary I's court, returning to the Netherlands in May of 1555. After reunifying with her son, Christina served as his advisor and was again appointed regent when he travelled to France.
Also in 1559, Christina's father, King Christian II, finally passed away. Her elder sister Dorothea then made a claim to the throne of Denmark and Norway. Dorothea was childless. Christina eventually convinced Dorothea to abandon her claim in favour of Christina's son. Nothing ever came to Dorothea, Christina, or Christina's son from this claim.
Christina returned to her dower city of Tortona in 1578, where she lived and ruled until her death in 1590.
Heather R. Darsie lives in the United States with her family and three parrots. She works in the legal field, with a focus on children. She obtained a Bachelor of Arts degree in German Languages and Literature, then a Juris Doctorate in American jurisprudence, and studied abroad in Costa Rica and France. Heather has always loved history. She first became acquainted with Elizabeth I when she was in middle school and chose to write a book report about her. Since then, she has always held an interest in the Renaissance and its numerous enigmatic citizens, with particular focus on the history of England and Italy. She is currently working on a book on the heraldry of Tudor women and is also researching Anne of Cleves.
Sources & Suggested Reading
Picture: Painting of Christina by Hans Holbein the Younger, c. 1538, National Gallery.
Cartwright, Julia. Christina of Denmark: Duchess of Milan and Lorraine, 1522-1590, New York: E. P. Button & Company (1913).
"Christina of Denmark, Duchess of Milan", accessed November 3, 2016, https://www.nationalgallery.org.uk/paintings/hans-holbein-the-younger-christina-of-denmark-duchess-of-milan Retrieved 3 November 2016.
Encyclopædia Britannica Online, s. v. "Christian II", accessed November 07, 2016, https://www.britannica.com/biography/Christian-II-Scandinavian-king.
Encyclopædia Britannica Online, s. v. "Charles II (or III)", accessed November 17, 2016, https://www.britannica.com/biography/Charles-II-duke-of-Lorraine-1543-1608.