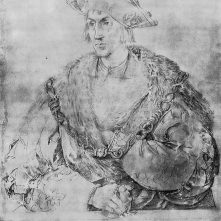 On this day in history, 27th November 1556, Henry Parker, 10th Baron Morley, nobleman, diplomat, translator and father of Jane Boleyn (wife of George Boleyn), died at his home, Hallingbury Place, in Great Hallingbury, Essex. He was in his late seventies at the time of his death. He was buried at St Giles's Church, Great Hallingbury.
Morley grew up in the household of Lady Margaret Beaufort, mother of Henry VII, and although he was a prominent courtier, he is remembered more for his literary translations from Latin and Italian, which he gave to Henry VIII and Mary I as New Year's gifts. His translations include Petrarch's Trionfi, the Life of Thesius and the Lyfe of Paulus Emelius.
Tudor Society member Dr Catherine Helm-Clark carried out research on the Parker family tomb complex which can be found in Church of St. Giles in Great Hallingbury, Essex, and members can download and read her findings - click here.
Picture: Henry Parker, Lord Morley, by Albrecht Dürer, 1523.