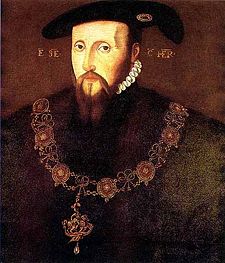 On this day in history, 5th October 1549, Edward Seymour, Protector Somerset, issued a proclamation for a general array of troops to gather at Hampton Court Palace for the defence of the realm, or rather the defence of the Lord Protector and his nephew, King Edward VI.
This proclamation was due to tensions mounting between Somerset and John Dudley, Earl of Warwick, who had recently defeated Kett's Rebellion in Norfolk and who was now known to be negotiating with Henry Fitzalan, Earl of Arundel, and Thomas Wriothesley, Earl of Southampton. The imperial ambassador, François van der Delft, recorded what happened in a letter to the Emperor:
"Last Sunday the Archbishop of Canterbury was summoned by letters from the King, and caused a preacher to proclaim that all those who were loyal to the King should repair to Hampton Court where his person resided, and the same day the same appeal was made in all directions by letters from the Protector. The result was that over 4,000 peasants immediately assembled at court, where the Protector was without any members of the Council except the Archbishop of Canterbury, Controller Paget and Dr. Smith, one of the secretaries. On the same day, early, assembled in London the Earls of Warwick and Southampton, the Great Master of the Household, the Earl of Arundel, Mr. Baker, Mr. North, the first secretary Dr. Petre, other councillors, the Marquis of Northampton and several more lords, and summoned the Lord Mayor and all the city authorities, all of whom at once came to an agreement, seized the Tower of London, and put a garrison of their men into it. The Protector, immediately informed of this assembly and its doings, produced the King in the presence of the court. The King said he was displeased that an attempt should be made to take his uncle the Protector away from him, and prayed that all would help him in resisting, for he himself was clothed, and ready to arm. The Protector also voiced complaints that his destruction was being plotted on false accusations, and that he should never be found guilty, for it all sprang out of malice and rank treason. He then had the peasants divided into squadrons, and assigned them quarters as if he expected to fight; but about five in the afternoon he sent his wife off to her house, and she went out weeping, very badly handled in words by the courtiers and peasants, who put all this trouble down to her. Immediately afterwards all the peasants were sent away to their homes; and at about seven o'clock the King and the Protector departed with the guard and other members of the court for Windsor, where a great number of peasants are daily assembling."
As you can see from van der Delft's letter, on Sunday 6th October 1549, the Lord Protector took the king to Windsor Castle. Van der Delft writes that "Somerset persisted in his wickedness and called in the peasants to oppress the nobility and make himself master and tyrant of all". The Lords of the Council were forced to act against the Protector after he called on the people to rise and defend the Crown who he claimed were trying to depose him. On 10th October, the Lord Protector was ordered from the king's presence and on 11th October 1549, following his surrender, the Lord Protector was arrested and brought in front of Edward VI who summarised his charges as "ambition, vainglory, entering into rash wars in mine youth, negligent looking on Newhaven, enriching himself of my treasure, following his own opinion, and doing all by his own authority, etc." On 13th October, his protectorate was dissolved and he was taken to the Tower of London on 14th October. He confessed to the charges laid against him and on 14th January 1550 his protectorate was taken off him officially by act of Parliament.
Somerset was released from the Tower on 6th February 1550 and pardoned on the 8th. He became a member of the king's council one more on 10th April and on 14th May he was restored as a gentleman of Edward VI's privy chamber. Unfortunately, in 1551, Somerset was recorded as quarrelling with John Dudley, Earl of Warwick, and it was rumoured that Somerset wanted to regain his former power and position. Following allegations made by Sir Thomas Palmer on 7th October 1551, who said that Somerset was planning to "invite Northumberland [Dudley], Northampton [Marquess of Northampton], and others to a banquet, and either to kill them there, or set upon them by the way", to secure the Tower of London and "raise London", Somerset was arrested. He was tried for high treason by a jury of his peers on 1st December 1551 and was executed on Tower Hill on 22nd January 1552.
Also on this day in history, 5th October 1553, the first Parliament of Mary I's reign met. It repealed the "treason act" of Edward VI's reign, passed an act declaring the legitimacy of Mary I, repealed the religious legislation of Edward's reign, and reinstated the Mass in Latin, celibacy of the clergy and ritual worship. It was as if the reformation of Mary's half-brother's reign had never happened. Click here to read more.
Notes and Sources
Calendar of State Papers, Spain, Volume 9, 1547-1549, pp. 457-458.
Beer, Barrett L.. "Seymour, Edward, duke of Somerset (c.1500–1552)." Barrett L. Beer In Oxford Dictionary of National Biography, edited by H. C. G. Matthew and Brian Harrison. Oxford: OUP, 2004.
A General History of England, by Thomas Carte, an Englishman (1752), Volume 3, p. 261.