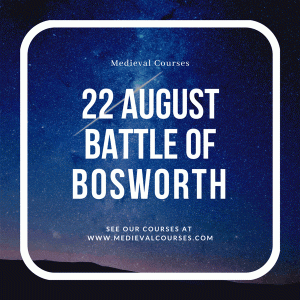 MedievalCourses.com are commemorating the anniversary of the Battle of Bosworth this week by offering 25% off all of their online history courses from today until the end of 24th August 2018.
All you have to do is choose your course (or courses!) at https://medievalcourses.com/overview/ and use coupon code BOS at checkout. You can use the code on as many courses as you like and what's great is that the courses don't have a set start or end date so you can buy courses now and then start them when it's convenient for you.
Here is a list of the courses on offer:
The History of the Medici Family
The Roles of Medieval and Tudor Women
The History of the Borgias
The English Reformation: a religious revolution
England's Crime and Punishment through the Ages
The Life of Anne Boleyn
The Six Wives of Henry VIII
Warrior Kings of England: The Story of the Plantagenet Dynasty
Everyday Lives of Medieval Folk
Heroes and Villains
Richard III and the Wars of the Roses
These courses are completely online and consist of downloadable or streaming audio lectures or videos (plus transcripts) by experts in their field. Participants have lifetime access to their courses once they have signed up and paid. Courses are open internationally.