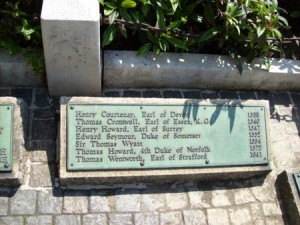 On 22nd January 1552, between 8 and 9 o'clock in the morning, Edward Seymour, Duke of Somerset, former Lord Protector and brother of the late Queen Jane Seymour, was executed on Tower Hill. He was laid to rest in the Chapel of St Peter ad Vincula at the Tower of London and records show that he was buried next to Queen Anne Boleyn in the chancel area.
The photograph to the right is of one of the plaques at the Tower Hill Scaffold Memorial where Edward Seymour's name is listed.
You can read more about Edward Seymour's execution in my article from last year - 22 January 1552 – Execution of Edward Seymour, Duke of Somerset.
Also on this day in history, 22nd January 1554, Thomas Wyatt the Younger met with fellow conspirators at his home of Allington Castle in Kent to make final plans for their uprising (Wyatt's Rebellion) against Mary I and her decision to marry Philip of Spain. Tudor Society members can read my article Wyatt's Rebellion 1554.
Photograph: copyright Tim Ridgway 2010.