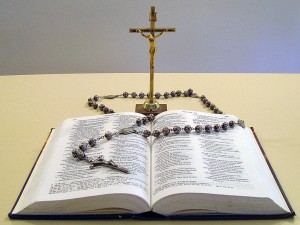 On this day in 1551, the Lady Mary ( the future Mary I), half-sister of King Edward VI, rode through London causing a stir. Here is diarist Henry Machyn's record of the event:
"The xv day the Lady Mary rode through London unto St. John's, her place, with fifty knights and gentlemen in velvet coats and chains of gold afore her, and after her iiij score gentlemen and ladies every one havyng a peyre of bedes of black. She rode through Chepe-syde and thrugh Smythfeld."
A note in the diary by historian John Strype notes that the carrying of beads, i.e. rosaries, was "to make an open profession, no doubt, of their devotion for the mass", and the carrying of rosaries during Edward's Protestant reign was definitely a statement seeing as their use had been banned by his government.
As Gary G. Gibbs point out, "This entry occurred at the height of Mary's conflict with Edward's government over her observance of the outlawed Roman Mass in her chapel" and they go on to say that "Here, Mary came to the capital clearly in the style of the heir to the throne, the wealthiest woman in the land, a daughter of two royal houses, and she and each of the participants in this royal procession wore a rosary." It was a dramatic protest.
On 17th March, she rode to court at Westminster, where she dined with the king. Edward recorded their meeting in his journal:
"The lady Mary, my sister, came to me at Westminster, where, after salutations, she was called with my council into a chamber, where was declared how long I had suffered her mass against my will, in the hope of her reconciliation, and how now being no hope, which I perceived by her letters, except I saw some short amendment, I could not bear it. She answered, that her soul was God's, and her faith she would not change, nor dissemble her opinion with contrary doing. It was said I constrained not her faith, but I wished her not as a king to rule, but as a subject to obey; and that her example might breed too much inconvenience."
It was stale-mate really. Although Mary assured the king that she would always be his "humble, obedient and unworthy sister", there was no way that she was compromising her faith. Whatever your thoughts on Mary and her reign, this display in 1551 was one of courage and defiance.
Notes and Sources
'Diary: 1551', in The Diary of Henry Machyn Citizen and Merchant-Taylor of London (1550-1563), ed. J G Nichols (London, 1848), pp. 3-13 http://www.british-history.ac.uk/camden-record-soc/vol42/pp3-13 [accessed 15 March 2016].
Gibbs, Gary G. in "Marking the Days: Henry Machyn's Manuscript and the Mid-Tudor Era", p. 303, in ed. Duffy, Eamon and Loades, David M. (2016) The Church of Mary Tudor, Routledge.
Edward VI's diary entry from Old England, a Pictorial Museum of Regal, Ecclesiastical, Baronial, Municipal, and Popular Antiquities, Volume II (1845), Charles Knight & Co., London, p. 34.