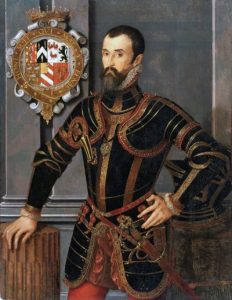 William Herbert, 1st Earl of Pembroke, soldier and magnate and a man who served four monarchs, was the second son of Sir Richard Herbert of Ewyas (the illegitimate son of William Herbert, 1st Earl of Pembroke, of the 8th creation) and his wife, Margaret, daughter of Sir Matthew Cradock of Swansea. Richard served King Henry VII as a gentleman usher. Very little is known of Herbert's early life, only that he lost his father in 1510 and was then brought up by his mother and her third husband, William Bawdrip.
In 1514, Herbert entered the service of Charles Somerset, Earl of Worcester, who was married to Herbert's half-uncle's daughter. John Aubrey recorded that William Herbert was known as 'Black Will Herbert' and that he was 'a mad fighting fellow'. Aubrey also recorded that Herbert was illiterate, which seems to be a baseless accusation, and that he killed a mercer in Bristol and then fled to France, joining the army of Francis I. It is not known whether that claim was true and his name does appear in a coroner's report.
By January 1526, he was serving King Henry VIII as a gentleman pensioner and was a member of the royal household in 1531. In 1534, he was referred to as a late gentleman of the household, so had ceased to serve the king in that way, but in 1535 he was made an esquire of the body and in 1539 a gentleman spear. In 1540, he became a gentleman of the king's privy chamber.
His first wife was Anne Parr, sister of Catherine Parr, so when Catherine married the king in July 1543, Herbert was in a position to reap royal rewards and favour. He was knighted soon after his sister-in-law's marriage to the king, and in 1544 he received lands of Wilton Abbey. On this land, he built Wilton House. His wife, Anne, served as one of the queen's ladies and as the keeper of her jewels. The sisters were close, and both were known patrons of the famous miniaturist Levina Teerlinc.
In 1544, Herbert served the king in his French campaign, leading 100 light horsemen in the capture of Boulogne. In 1545 he served as a knight of the shire for Wiltshire, and in February 1546 he was made steward for life of the Duchy of Lancaster estates. In October 1546, he was made joint chief gentleman of the privy chamber with Sir Anthony Denny. On 30th December 1546, he was in attendance on King Henry VIII when the latter's last will and testament was stamped, witnessed and sealed. Herbert was then named an executor of the will and chosen to serve on the regency council which Henry VIII had set up to help his son, the future King Edward VI, reign during his minority. On the king's death, by the terms of his will, he received a house in Hackney and a legacy of lands.
Herbert continued to prosper in his career during the protectorship of Edward Seymour, Duke of Somerset, even though the men differed in their religious views with Herbert appearing to follow the teachings of Thomas Erastus in believing that the state is superior to the church in ecclesiastical matters. He served as an MP for Wiltshire and helped put down rebellion in the county in 1549. He then marched on to Wales and Gloucestershire to gather men to put down the rebels in Devon and Cornwall, arriving in time to lead the vanguard at the Battle of Sampford Courtenay which defeated the rebels. They then defeated more rebels at Tiverton. John Russell, commander of the king's army, described Herbert as having 'served notably'.
Herbert was elected as a Knight of the Garter in 1549 and in 1550, when John Dudley became lord president of the council and leader of Edward VI's government, Herbert allied himself with the new leader. His loyalty earned him money and the offices of Master of the King's Horse, Lord President of the Council in the Welsh Marches, and lands in the Marches. His power in Wales and his holdings there led to him being described as 'the greatest lord that ever owned lands in Glamorgan either before or after lestyn ap Gwagan's time'. In 1551, Herbert was made Lord Lieutenant for all of the Welsh counties, and on 10th October 1551, he was made Baron Herbert of Cardiff and, the next day, 1st Earl of Pembroke (of the 10th creation). In 1552, following the Duke of Somerset's execution, Herbert was granted lands in north Wiltshire.
In 1551, Herbert was part of Mary of Guise's escort for her visit to London, and in 1552 he welcomed King Edward VI to his home at Wilton. The imperial ambassador, who was in attendance, was impressed by the lavish banquet and the fact that the king's food was served on pure gold, the gentlemen of the privy chamber's food on silver gilt, and other courtiers' food on silver. He also gave the king a gift of "a very rich camp-bed, decorated with pearls and precious stones". Herbert had become known for his love of display and also his charisma.
Herbert's wife, Anne, died on 20th February 1552 and she was buried in a lavish funeral at St Paul's. The couple had had three children together: Henry Herbert, 2nd Earl of Pembroke; Sir Edward Herbert, and Lady Anne Herbert. Herbert went on to marry Anne Talbot, widow of Peter Compton and daughter of George Talbot, Earl of Shrewsbury.
In 1553, Herbert supported the king's plans for Lady Jane Grey to succeed him rather than his half-sister, Mary. Herbert's son, Henry, had married Jane's sister, Katherine Grey, in May 1553, the same day that Jane married Guildford Dudley, son of the Duke of Northumberland. Herbert was one of the signatories of Edward VI's 'devise' for the succession and on 9th July 1553, following Jane's succession, he put his signature to a letter to Mary ordering her to surrender. He also had Jane proclaimed queen at Beaumaris and Denbigh. However, when he saw that the tide was turning in Mary's favour, he began to change his mind and he and the Earl of Arundel met at Herbert's home, Baynard's Castle, and it was there that the two of them gathered men and made speeches in Mary's favour. They then went to Cheapside and proclaimed Mary as queen.
After Mary took the throne on 19th July 1553, Pembroke was put under house arrest and deprived of his office of Lord President for the Welsh Marches due to his support of Jane. However, just under a month later, on 13th August 1553, Herbert was admitted to the new queen's privy council. With Queen Jane now off the throne, Herbert had his son's marriage to Katherine Grey annulled. Although he supported Edward Courtenay as a potential bridegroom for Queen Mary, over Philip of Spain, Mary appointed him as her chief captain and general to put down Wyatt's Rebellion in early 1554. He blocked the approaches to London, causing the rebels to surrender eventually.
In early 1555, he regained his office of Lord President and was rewarded with a Spanish pension by King Philip of Spain, Mary's husband. Later that year, he accompanied the king to Brussels for a meeting with Charles V and after this was made Governor of Calais. In 1557, he led the English troops in support of King Philip in France, helping to capture St Quentin on 27th August. In 1558, he was made Lieutenant for the counties of Wiltshire and Somerset. He resigned as president of the council in Wales due to his responsibilities in Wiltshire and Somerset.
In 1558, Mary I named him as an executor of her will, and when she died on 17th November 1558, Herbert was one of the men who rode to Hatfield to tell Elizabeth that she was queen. He attended Elizabeth's first ever privy council meeting there and on 28th November, when Elizabeth I entered London, he bore her sword before her.
In 1559 and 1562, Herbert played host to the queen at Baynard's Castle, and in 1560 he acted as her substitute at the St Geroge's Day feast. He supported the queen's secretary, Sir William Cecil, who wanted the English to intervene in the Scottish situation in 1560 and who opposed the choice of Robert Dudley as a potential bridegroom for Elizabeth. In 1562, when Elizabeth thought she was dying of smallpox, it was reported that Herbert supported the succession of the Earl of Huntingdon.
In the 1560s, Herbert began to suffer from ill health, being seriously ill in June 1560 and then again in September 1564. However, he was well enough to be made Lord High Steward of the queen's household in 1568, by which time he was a supporter of Robert Dudley, Earl of Leicester. In 1568 Herbert gave his support for the idea that Mary, Queen of Scots should marry Thomas Howard, 4th Duke of Norfolk, and then Mary become queen. Pembroke was detained at court for his support of this treachery, but then released after he had managed to convince the queen of his innocence. However, he was again detained in 1569 after the rebellion of the Earls of Northumberland and Westmorland, who claimed that he was one of their backers. Luckily, he again managed to convince the queen of his innocence and his loyalty: "For God forbid I shoulde lieve the Howre, nowe in myne olde Age, to staine my former Lief with one Spott of Disloyaltie."
William Herbert, Earl of Pembroke, died at Hampton Court Palace at the age of 63 on 17th March 1570. Queen Elizabeth wrote a letter of condolence to Herbert's widow. He was laid to rest at Old St Paul's on 18th April 1570 beside his first wife. His grave was lost in the Great Fire of London of 1666, which destroyed the cathedral.
Written by Charlotte Donovan and Claire Ridgway
Charlotte Donovan is a 23-year-old, recent BA Hons History Graduate from the University of Hull. Her favourite time period in History is the Tudor period and she has a huge love/interest for Anne Boleyn, Henry VIII and the people of the Tudor court. Charlotte is a writer who is currently halfway through writing her first book. She lives in Hartlepool with her partner where she works at the local college as a Learning Support Assistant, she loves to read/write and also watch TV dramatisations and documentaries of her favourite time periods within history. Charlotte is also a blogger for her own site With love, Charlotte x.
Sources used