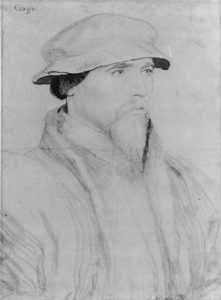 Sir John Gage was born on 28th October 1479 and was the only son of William Gage of Burstow and his wife, Agnes, daughter of Bartholomew Bolney of Bolney in Sussex. Gage was baptised in Burstow, where he was born, but the family later moved to Firle, near Lewes.
In 1499, Gage became a ward of Robert Tate, alderman of London, and in 1502 Gage married Philippa, daughter of Sir Richard Guildford of Cranbrook who was comptroller of the royal household. This marriage match was good for Gage in that it helped him to join the royal household, which he did by becoming an esquire of the body to King Henry VII. He continued in this role after the accession of 17-year-old Henry VIII in 1509.
Gage served as a Justice of the Peace for the counties of Sussex (1514) and Surrey (1528) and by 1522 he had been appointed as deputy to Sir Nicholas Vaux, who was serving as captain of Guînes. This was due to the patronage of Sir William Sandys who was serving as treasurer of Calais. In August 1522, Gage was granted survivorship of the office of comptroller of Calais, because the comptroller, Sir Robert Wotton was ill, and he became comptroller in 1524 on Wotton's death. He served in the campaigns in France in the 1510s and 1520s and was rewarded with a knighthood in 1525.
In April 1526, Gage became vice-chamberlain of the household, and in 1529 he became a Member of Parliament for Sussex. He was rewarded with grants and lands in 1529 and 1530, including property that had belonged to the fallen Cardinal Wolsey, and in 1532 he surveyed the lands of the Pale of Calais as commissioner. From December 1532 to spring 1533 he was serving the king on business in the north of England.
Although Gage was religiously conservative, he did support the king in his quest for an annulment and was present at the Dunstable court that Archbishop Thomas Cranmer set up in May 1533 to examine Henry VIII's case for an annulment. This court ruled that Henry's marriage to Catherine of Aragon was against God's law and that it was, therefore, null and void. However, Gage suddenly left court in August 1533 and in January 1534 the imperial ambassador, Eustace Chapuys, reported that Gage had renounced his office and was intending to become a Carthusian monk. He did visit Sheen Charterhouse, but was back at court by summer 1536, following the deaths of both Catherine of Aragon and Anne Boleyn. He was present at the baptism of Prince Edward, son of Henry VIII and his third wife, Jane Seymour, in October 1537 and also at the funeral of Jane, who died from complications following Edward's birth. The late 1530s saw him serving the king in the dissolution of the monasteries, as a commissioner, helping with the examinations of those implicated in the Exeter Conspiracy, and also helping organise coastal defences. He also played a part in the investigations into Thomas Cromwell at his fall in the summer of 1540.
By this time, Gage was riding high in the king's favour as a religious conservative, and in October 1540 he was appointed comptroller of the royal household and constable of the Tower of London, as well as being sworn into the king's privy council. He was elected as a Knight of the Garter in 1541 and played a part in the investigations into Catherine Howard's past in late 1541. In autumn of 1542, Gage was sent north with Edward Seymour, Earl of Hertford, following the death of Gage's friend, William Fitzwilliam, who had been preparing to attack the Scots. Gage's role was to guarantee Fitzwilliam's men's loyalty and to rally the troops. In 1543, he was a member of the commission negotiating the marriage of Mary, Queen of Scots, and Prince Edward, and he was a signatory of the July 1543 Treaty of Greenwich. In 1544, he was heavily involved in the French campaign, particularly in the siege of Boulogne. He was made a knight banneret in 1544.
Henry VIII had chosen Gage was one of the men to act as a councillor for his son, Edward, when he became king, but the difference in religious views between Gage and Edward Seymour, who became Duke of Somerset and Lord Protector after Henry VIII's death, led to gage losing his council position in June 1547 along with his office. It also led to Gage taking part in the plot to oust Somerset in 1549. However, he didn't particularly see eye to eye with John Dudley, Duke of Northumberland, who replaced Somerset as the head of Edward VI's government and so he stayed away from court and didn't take part in the goings-on of July 1553 which saw Lady Jane Grey being declared queen. He did, however, act as constable of the Tower when Northumberland was taken into custody there and was appointed lord chamberlain of Mary I's household on her accession. As captain of the guard, he helped put down Wyatt's Rebellion in early 1554 and acted as train-bearer at Mary I's marriage to Philip of Spain. In 1554, he was constable of the Tower when Mary's half-sister, Elizabeth, was imprisoned at the Tower.
On 18th April 1556, Gage died at his home, Firle Place in Sussex. He was buried a week later beside his wife in West Firle church. He left four sons and four daughters. One of his daughters went on to marry Sir Anthony Browne, master of the horse.
Written by Charlotte Donovan.
Charlotte Donovan is a 23-year-old, recent BA Hons History Graduate from the University of Hull. Her favourite time period in History is the Tudor period and she has a huge love/interest for Anne Boleyn, Henry VIII and the people of the Tudor court. Charlotte is a writer who is currently halfway through writing her first book. She lives in Hartlepool with her partner where she works at the local college as a Learning Support Assistant, she loves to read/write and also watch TV dramatisations and documentaries of her favourite time periods within history. Charlotte is also a blogger for her own site With love, Charlotte x.
Sources used
Picture: Sir John Gage by Hans Holbein the Younger.