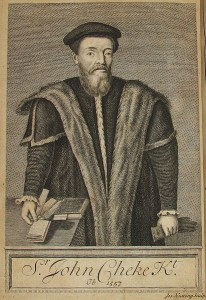 Today is the anniversary of the birth of Sir John Cheke, the English classical scholar and statesman. He was born in Cambridge on 16th June 1514 and was the son of Peter Cheke, bedel of the University of Cambridge, and his wife, Agnes Duffield. Sir John Cheke was educated at St John's College, Cambridge, where he excelled at Latin and Greek, and became a fellow of the college in 1529. He became the first Regius Professor of Greek at the university in 1540 and taught William Cecil, Baron Burghley, and Roger Ascham, the English scholar and Princess Elizabeth's tutor.
Cheke went on to serve as a tutor to Edward VI (1544) and Secretary of State for Lady Jane Grey, during her very short reign in July 1553. He was imprisoned in the Tower of London by Mary I for his part in Lady Jane Grey's "usurpation" of the throne, but released just over a year later. Cheke then travelled to the continent but was arrested between Brussels and Antwerp in Spring 1556, along with Sir Peter Carew, and taken back to England, where he was once again imprisoned in the Tower. In fear of being burned at the stake for his Protestant beliefs, he agreed to be received into the Catholic Church and was released from prison in October 1556 after making a public recantation in front of Mary I. Afterwards, he was ashamed of himself and regretted his cowardice. He died just over a year later, on the 13th September 1557.
You can read a biography of Sir John Cheke by John Strype on Googe Books for free - click here.
16th June is also the anniversary of the Battle of Stoke Field in 1487. Tudor Society members can click here to find out more about the battle.