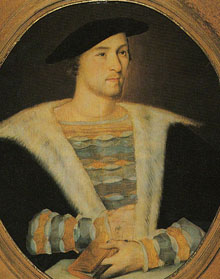 I want to explore the life of William Carey, courtier, a member of the king's privy chamber, and an esquire of the body. William Carey is most famously known for being the husband of Mary Boleyn, older sister of Anne Boleyn. However, he was more than just a husband; he was a man on the rise and distant cousin to the King.
There is little known about William Carey's early life. He appears to be the second son of Thomas Carey from Chilton Foliat, Wiltshire, and his wife Margaret, daughter of Sir Robert Spencer of Ashbury, Devon. The family had strong Lancastrian ties as William's grandfather, Sir William Carey of Cockington, Devon, on his father's side, was a Lancastrian supporter and soldier who was beheaded at Tewkesbury in 1471. William's grandmother on his mother's side was Eleanor Beaufort, daughter and coheir of Edmund Beaufort, Duke of Somerset. The Duke of Somerset was a staunch Lancastrian supporter and right-hand man of King Henry VI. It was rumoured that Somerset even had an affair with the King's mother, Catherine Valois, who was also the grandmother of King Henry VII! Through his mother's side, William Carey was a distant cousin of King Henry VIII.
Although William's birthdate is not recorded, it is believed that he was born around 1500. It is unclear exactly how he came to court or when he first appeared. Being a distant blood relative of King Henry VIII, it may have been that he or a member of his family used these connections to gain a position at court. It is also possible that Henry Courtenay, Earl of Devon, introduced William Carey to court. The pair were reported to have been friends, frequently playing tennis together.
By 1519, William Carey's banner was flying high. By that October, Carey was entitled to obtain breakfast at court which indicated that he was in the service of the King. In May 1520 he was present when the King met the newly elected Charles V at Dover and shortly after this he was appointed as a member of the King's Privy Chamber, entitling him access to the King's person.
William Carey's star continued to rise when on the 4th of February 1520 he married Mary Boleyn at the Chapel Royal at Greenwich. King Henry VIII was present at the marriage and gave the couple 6s and 8d as a wedding present. Mary was the daughter of Sir Thomas Boleyn and his wife Elizabeth Howard, daughter of Thomas Howard, Duke of Norfolk. Thomas Boleyn was a courtier and ambassador for the King and with her uncle being a Duke Mary Boleyn was considered to be an excellent match for William Carey. With both families on the rise at court, the marriage solidified a working relationship that would see both climb the social ladder.
William Carey attended the Field of Cloth of Gold in June 1520 with his new wife Mary Boleyn, and it was reported that he distinguished himself in the jousts. Carey was reported to be tall, athletic and handsome and shared many similar qualities with his distant cousin King Henry VIII, including a great love of sports and physical pursuits including jousting, riding and hunting.
Sometime around 1522, Mary Boleyn became the mistress of Henry VIII. An exact date remains unknown however it is likely that during the Shrovetide jousts of 1522 Henry VIII rode out on his horse wearing the motto 'elle mon coeur a navera' (she has wounded my heart), which may have referred to his relationship with Mary Boleyn.
To modern eyes, it may seem strange, even outrageous, that Henry VIII would take another man's wife to be his mistress, let alone William Carey turning a blind eye to such actions. However, the Tudor age had different standards for men and women. It would appear that Carey benefited from his wife sharing the King's bed. While Mary was mistress to the King, Carey received a number of grants, including the borough of Buckingham, Buckinghamshire and the manor of Easington, Buckinghamshire, estates that had formerly belonged to the late Edward Stafford, Duke of Buckingham. (For more about Stafford and his downfall, please refer to my article on the King's Men in January - click here.)
During Mary's time as mistress of Henry VIII two children were born, first, a daughter named Catherine born in 1524 and then a son named Henry born on the 4th March 1526. There has been much speculation over the years as to who was the biological father of Mary Boleyn's children. Some have suggested that both children were fathered by Henry VIII; other's stating that only Catherine was the King's daughter. Ultimately it did not matter as according to the law of the time both children were William Carey's as any child born within marriage legally belonged to the husband unless argued otherwise.
By 1525, Mary Boleyn's relationship with the King had fizzled out yet William Carey's career was still on the rise. By January 1526 Carey was listed as one of six gentlemen waiters of the privy chamber, once again giving him personal access to the King. He had permanent lodgings on the King's side of court and was also made a keeper of Greenwich Palace in the same year. Tragically Carey would not live long to see his career continue to flourish.
On the 22nd of June 1528, William Carey died. Sometime during that day he became gravely ill and died of the sweating sickness. The sweating sickness had first struck England in the fifteenth century and appeared on and off with one of the worst epidemics being in 1528. The symptoms were something like influenza or pneumonia, with the patient having pains and aches all over the body, headaches, a great thirst and horrible sweating. They would experience great exhaustion and a desire to sleep, rapid pulse rate, headaches and dizziness. Many who caught the sickness were dead within twenty-four hours. Both William's sister in law, Anne Boleyn and his father in law Thomas Boleyn caught the sweating sickness luckily for both they made a full recovery; William Carey was not so lucky.
The location of William's burial has sadly not been recorded. It has been proposed that he was buried in a mass grave with other men and women who were killed by the sweating sickness around the same time; such was the fear of catching the deadly illness.
William Carey was a handsome, athletic man, a distant cousin of King Henry VIII with a long and prosperous career ahead of him until tragedy struck. He is often overshadowed by his wife Mary Boleyn, however, he was a man on the rise, and one can only imagine what he would have achieved if he had not fallen ill that fateful day in June 1528.
Sarah Bryson is the author of "Mary Boleyn: In a Nutshell" and "Charles Brandon: The King's Man". She is a researcher, writer and educator who has a Bachelor of Early Childhood Education with Honours and currently works with children with disabilities. Sarah is passionate about Tudor history and has a deep interest in Mary Boleyn, Anne Boleyn, the reign of Henry VIII and the people of his court. Visiting England in 2009 furthered her passion and when she returned home she started a website, queentohistory.com, and Facebook page about Tudor history. Sarah lives in Australia, enjoys reading, writing, Tudor costume enactment and is currently writing a biography of Mary Tudor, sister of Henry VIII.
Sources
Jonathan, H (2004), 'Stafford, Mary (c.1499–1543)', Oxford Dictionary of National Biography, Oxford University Press.
MacCaffrey , W.T (2004), 'Carey, Henry, first Baron Hunsdon (1526–1596)', Oxford Dictionary of National Biography, Oxford University Press.
Richardson, Douglas (2011) Plantagenet Ancestry: A Study In Colonial And Medieval Families, 2nd Edition, CreateSpace, USA.
Ridgway, C 2014, Sweating Sickness in a Nutshell, MadeGlobal Publishing.
Riordan, M, Carey, William (c.1496–1528), Oxford Dictionary of National Biography, Oxford University Press.
Varlow, S (2006), 'Knollys , Katherine, Lady Knollys (c.1523–1569)', Oxford Dictionary of National Biography, Oxford University Press.
Wilkinson, J (2010) Mary Boleyn The True Story of Henry VIII's Favourite Mistress, Amberley Publishing, Gloucestershire.