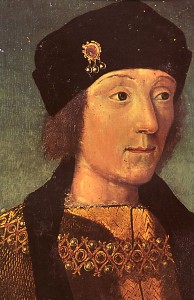 On this day in history, Sunday 7th August 1485, Henry Tudor, son of Lady Margaret Beaufort and the late Edmund Tudor, Earl of Richmond, "came unto Wales", returning from exile in Brittany to claim the throne of England from Richard III.
Polydore Vergil records Henry's return:
"Than Henry, thinkinge yt nedefull to make haste, that his arrive the frinds showld not be any longer kept in perplexytie betwene hope and drede, uncertane what to do, after he had made hisprayers to God that he might have an happy and prosperousjourney, he lowsyd from the mowth of Seyne with two thousand onely of armyd men and a few shippes, the calends of August, and with a soft suthren wynde. The weather being very fayre he came unto Wales the 7th day after, a lyttle before soone set, wher, entring thaven caulyd Milford, and furthwith going a land, he took
first a place the name wherof ys Dalley, wher he herd that certane companyes of his adversaryes had had ther stations the wynter by past to have kept him from landing. From thence departing in the breake of dav he went to Haverforde, which vs a towne not xne. myles from Dalley, wher he was receavyd with great goodwill of all men, and the same he dyd with suche celerytie as that he was present and spoken of all at once."
Chronicler Robert Fabyan recorded that on disembarking at Mill Bay, Henry "kneeled down upon the earth, and with meek countenance and pure devotion began this psalm: 'Judica me Deus, et discerne causam' ['Judge me, O God, and favour my cause']." He then "kissed the ground meekly and reverently, made the sign of a cross upon him" and then "he commanded such as were about him boldly in the name of God and Saint George to set forward."
Henry and his force then set off for London, marching through Wales and the Marches and gathering support on their journey. Although they were aiming for London, they actually encountered King Richard III and his forces in Leicestershire. On 22nd August 1485, the forces of Henry Tudor and King Richard III clashed at the Battle of Bosworth Field, near Market Bosworth. King Richard was killed during the battle and Henry Tudor became King Henry VII. Henry ruled until his death in April 1509 and passed the throne successfully on to his second son who became King Henry VIII.
You can find out more about Henry VII in our Henry VII e-book - click here - and also in the documentary "Winter King" - click here. I also did a Claire Chats video talk "Henry VII - Usurper?".
Notes and Sources
ed. Ellis, Sir Henry (1844) Three Books of Polydore Vergil's English History, Comprising the Reigns of Henry VI., Edward IV., and Richard III, Camden Society, p. 216. Read online at https://books.google.es/books/about/Three_Books_of_Polydore_Vergil_s_English.html?id=Ex8IAAAAIAAJ&redir_esc=y or https://archive.org/details/threebooksofpoly29verg
ed. Ellis, Henry (1811) The New Chronicles of England and France, in Two Parts; by Robert Fabyan, p. 672. Read online at https://books.google.es/books?id=-zk6AQAAMAAJ&pg=PR1&lpg=PR1&redir_esc=y#v=onepage&q&f=false or at https://archive.org/details/newchroniclesofe00fabyuoft
Penn, Thomas (2011) Winter King: The Dawn of Tudor England