25 September
1513 - Vasco Núñez de Balboa, the Spanish explorer, reached the Pacific Ocean. He was the first European to have discovered the Pacific Ocean from the New World.
1525 - Explorer, navigator and naval administrator Stephen Borough (Burrough) was born at Borough House, Northam Burrows, Northam in Devon, to Walter Borough and his wife Mary Dough.
1534 – Death of Pope Clement VII in Rome from eating a death cap mushroom. He was laid to rest in Santa Maria sopra Minerva.
1554 – Death of Richard Sampson, Bishop of Coventry and Lichfield, and former President of the Council of the Welsh Marches, at Eccleshall in Staffordshire. He was buried in the parish church at Eccleshall. Sampson had acted as the King's Proctor at the fall of Anne Boleyn in 1536.
1555 – The Peace of Augsburg, or Augsburg Settlement, was signed by Charles V, Holy Roman Emperor, and the princes of the Schmalkaldic League at Augsburg.
1558 – Gertrude Courtenay, Marchioness of Exeter, made her will. She died soon after and was buried in Wimborne Minster, Dorset. Gertrude was the mother of Edward Courtenay, 1st Earl of Devon, who was imprisoned for his part in Wyatt's Rebellion in 1554. Gertrude, herself, was imprisoned in 1538, and her husband was executed for treason.
1584 – Death of Thomas Copley, Roman Catholic, in exile near Antwerp. He had served Elizabeth I as Commissioner of the Peace for Surrey, and she was godmother to his son, Henry, but he lost royal favour when he converted to Catholicism in 1563. He left England in 1570, being unable to accept royal supremacy and Elizabeth I's religious measures.
1586 – Mary, Queen of Scots was moved to Fotheringhay Castle in Northamptonshire, and Elizabeth finally backed down and agreed to the appointing of 36 commissioners to act as judges in her trial.
1594 – Death of Gregory Fiennes, 10th Baron Dacre, at Chelsea. He was buried in Chelsea Old Church.
1602 – Death of William Redman, Bishop of Norwich, at the Episcopal Palace. He was buried in the cathedral choir.
26 September
1533 – Death of William Benet, diplomat, at Susa in Italy. He had been appointed Henry VIII's Resident Ambassador to Rome in 1529 and remained in that position until the break with Rome. He was on his way home from Rome when he died.
1555 – Death of Thomas Berthelet, printer, in London. Berthelet had been Henry VIII's printer from 1530 until the King's death in 1547.
1580 - Sir Francis Drake arrived at the port of Plymouth in the Golden Hind, which was laden with treasure and spices after his three-year voyage around the world. Drake was the first Englishman to circumnavigate the globe, and was rewarded by Queen Elizabeth I with a knighthood on 4th April 1581, aboard the Golden Hind at Deptford. Click here to read more.
1588 – Death of Sir Amias (Amyas) Paulet, administrator, diplomat, Governor of Jersey and gaoler of Mary, Queen of Scots. He was buried in St Martin-in-the-Fields, Westminster. Paulet served Elizabeth I as her resident ambassador in France and a Privy Councillor, and was present at the execution of Mary, Queen of Scots. When he was acting as Mary's gaoler, Elizabeth I had suggested that it would be easier if Paulet quietly murdered her. He refused.
1592 – Burial of Thomas Watson, poet and translator, at St Bartholomew-the-Less. Watson is known for his unusual eighteen line sonnets and his Latin works.
1595 – Burial of Sir Owen Hopton, administrator and politician, at St Dunstan's Church, Stepney. Hopton served Elizabeth I as Lieutenant of the Tower of London from 1570-1590, as a member of Parliament and a Sheriff.
27 September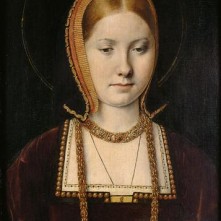 1442 – Birth of John de la Pole, 2nd Duke of Suffolk, to William de la Pole, 1st Duke of Suffolk, and his wife Alice (née Chaucer). Suffolk married the six-year-old Margaret Beaufort, future mother of Henry VII, in 1449, but the marriage was annulled by Henry VI in 1453, and he went on to marry Elizabeth, daughter of Richard of York and sister of Edward IV.
1488 – Death of William Hobbes, physician and surgeon. He was buried in Holy Trinity Priory, Aldgate, London. Hobbes served Richard, Duke of York, and Edward IV, and was Royal Physician to Richard III. He became Master of St Mary of Bethlehem Hospital (Bedlam) in 1479.
1501 - Fifteen-year-old Catherine of Aragon left the port of Laredo in Spain bound for England to marry Arthur, Prince of Wales. It was her second attempt at sailing from Spain to England. Her first attempt, on 17th August, from A Coruña, had been a failure: strong storms in the notoriously rough Bay of Biscay had forced Catherine's fleet to land at Laredo, near Bilbao. She landed at Plymouth on 2nd October.
1540 – Birth of Michael Heneage, politician and antiquary. Heneage was a member of Parliament, a Keeper of the Records in the Tower of London, and a member of the Society of Antiquaries.
1571 – Death of Sir William Garrard, merchant, in London. He was buried in the church of St Magnus the Martyr near London Bridge. Garrard was Mayor of London in 1555, and a member of Parliament during Mary I's reign. He also went on voyages to Guinea in the 1550s and 1560s, and became a consul of the Russia Company in 1553.
28 September
1502 – Death of Robert Willoughby, 1st Baron Willoughby de Broke, at Callington, Cornwall. He was buried at Callington Church. Willoughby had been in exile in Brittany with Henry Tudor and fought with him at the Battle of Bosworth. He served Henry VII as Lord Steward and was made a Knight of the Garter in 1489.
1553 - Mary I travelled in a decorated barge to the Tower of London to prepare for her coronation. She was accompanied by her half-sister, Elizabeth.
1558 (28th or 29th) – Death of Sir Robert Acton, Royal Saddler and member of Parliament. He was buried in Elmley Lovett church. Acton also served as a Justice of the Peace and Sheriff during Henry VIII's reign, as well as being on the council in the marches of Wales. As Royal Saddler, he went with the King to Boulogne in 1544.
1560 – Death of Francis Talbot, 5th Earl of Shrewsbury, at Sheffield. He was buried at St Peter's Church, Sheffield, which is now the cathedral.
1582 – Death of George Buchanan, Scottish historian, humanist scholar and poet. He was buried in Greyfriars churchyard in Edinburgh. His works included his 1579 "History of Scotland" (Rerum Scoticarum Historia), the 1579 treatise De Jure Regni apud Scotos, his satire "Chamaeleon" and his poems.
1594 – Death of John Piers, Archbishop of York, at his home, Bishopthorpe. He was aged seventy-one. Piers was buried at York Minster.
1599 – Robert Devereux, 2nd Earl of Essex, strode into Elizabeth I's bedchamber unannounced and saw the Queen without her makeup or wig, without her "mask of youth".
29 September
1528 – The papal legate, Cardinal Lorenzo Campeggio, landed at Dover on the Kent coast. He had arrived in preparation for hearing the case for the annulment of the marriage of Henry VIII and Catherine of Aragon at a special legatine court.
1553 – Mary I created fifteen Knights of the Bath as part of her coronation celebrations.
1558 – Death of George Brooke, 9th Baron Cobham, soldier and landowner. He was buried at Cobham Church. Cobham acted as Lieutenant-General in spring 1544 when English forces invaded Scotland, and was made Deputy of Calais in June 1544. He was created a Knight of the Garter in 1549, and was on Edward VI's Privy Council. He was imprisoned in the Tower of London temporarily in 1554 after being implicated in Wyatt's Rebellion, but was released and fined.
1564 - Robert Dudley was made Earl of Leicester, an earldom which had been planned earlier in the year to make him more acceptable as a bridegroom to Mary, Queen of Scots.
30 September
1515 – Margaret Tudor, sister of Henry VIII and former Queen Consort of James IV, fled to England. Margaret was pregnant with the child of her new husband, Archibald Douglas, 6th Earl of Angus. John Stewart, 2nd Earl of Albany, was acting as Regent for Margaret's son, the young James V, and had custody of the boy and his brother, Alexander.
1544 – Henry VIII returned to England after his victory in Boulogne. The French forces had surrendered on 13th September after a siege which lasted from 19th July.
1546 – Death of Sir Richard Long, member of Parliament and gentleman of Henry VIII's privy chamber.
1553 - Mary I's coronation procession from the Tower of London to Whitehall.
1585 – Philip Howard, Earl of Arundel and son of Thomas Howard, 4th Duke of Norfolk, was received into the Catholic Church by Jesuit William Weston at Arundel Castle.
1 October
1500 – Death of John Alcock, Bishop of Ely, scholar and Royal Tutor, at Wisbech Castle. He was buried at Ely Cathedral, in the chantry chapel he had designed. Alcock had acted as tutor to Prince Edward, son of Edward IV, and had also been president of the Prince's Council at Ludlow. He was also Henry VII's first Chancellor and opened his first Parliament.
1505 – Death of Sir Henry Colet, merchant and Lord Mayor of London, at Stepney. He was buried there.
1526 – Birth of Dorothy Stafford, Lady Stafford, daughter of Henry Stafford, 10th Baron Stafford, and his wife, Ursula (née Pole). Dorothy married Sir William Stafford, widower of Mary Boleyn, in 1545. She served Elizabeth I as a gentlewoman of the Privy Chamber.
1553 - Mary I was crowned Queen at Westminster Abbey by Stephen Gardiner, the Bishop of Winchester. Click here to read more.