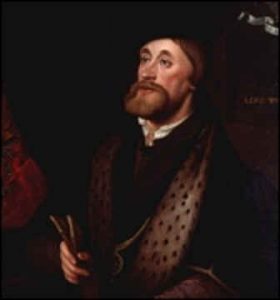 Thomas Wriothesley (pronounced Riz-lee) was a prominent member of the court during the reign of King Henry VIII and his son King Edward VI. Born on 21 December 1505, Thomas was the first child and oldest son of William Wriothesley and Agnes, daughter of James Drayton. The couple went on to have three more children, daughters Elizabeth and Anne born in 1507 and 1508 respectively and a second son, Edward born in 1509.
Wriothesley was educated at St Paul's School, London before he went to Trinity Hall, Cambridge in around 1522. One of his teachers was the famous Stephen Gardiner, Bishop of Winchester, who would play a large role in the religious discussions of Henry VIII's later years. His fellow students reported that Wriothesley was intelligent, had integrity of mind and was very handsome.
Wriothesley never obtained his degree from Cambridge. Instead, he went on to forge a prosperous career in the court of Henry VIII. In 1524, when he was just nineteen years of age, Wriothesley was hired by Thomas Cromwell; another man who would become a prominent member of the King's council in the 1530's. Six years later Wriothesley was recorded as being the King's messenger and then on 4 May 4 of the same year he was appointed joint clerk of the signet under his old tutor Stephen Gardiner, who was at this time the King's secretary. Clearly Wriothesley's position was on the rise and he had a reputation for being efficient at his job.
Wriothesley and Gardiner had a good working relationship and Wriothesley was also close friends with Gardiner's nephew, Germayne, yet despite this, the two did not always see eye to eye. Gardiner, Bishop of Winchester was a devout Catholic while Wriothesley was, at least on the surface, a reformer and strongly supported Henry VIII's spiritual reform and changes to the Church. In addition to this, in 1538, Wriothesley provided Thomas Cromwell with information about Gardiner's household in order to discredit the Bishop. From this point onwards the relationship between Gardiner and Wriothesley became strained.
Wriothesley was also trusted to carry important messages overseas and he was dispatched to Brussels in December 1532, on what could have possibly been business relating to Henry VIII's "Great Matter" – the annulment of his marriage to Katherine of Aragon. Working as chief clerk of the signet and as Thomas Cromwell's secretary saw him rise in Henry VIII's favour.
After the dissolution of the monasteries, Wriothesley obtained, through royal grants, several former religious manors and houses as well as three houses in London. Purchasing Titchfield Abbey, Wriothesley made it his primary residence and transformed the building into a lavish home befitting his status as a member of the King's court.
Thomas Wriothesley married a lady named Jane Cheney, daughter of William Cheney of Buckinghamshire. Jane outlived her husband and died on 15 September 1574 and was buried at Titchfield. The couple had three sons: William, Anthony and Henry. Tragically, both William and Anthony died young so it was young Henry who became his father's heir. The couple also had five daughters: Elizabeth, Mary, Katherine, Anne and Mabel.
Wriothesley was deeply involved with the annulment of Henry VIII's marriage to his fourth wife Anne of Cleves. Despite working for Thomas Cromwell, who had fought for the marriage, Wriothesley begged his master to free the King from the disastrous marriage. He also testified that the King did not consummate his marriage with Anne. Wriothesley was also part of the delegacy that was sent to Anne of Cleves to inform her that her marriage to the King had been annulled.
Despite the every changing face of courtly life and the fall of Henry VIII's right-hand man, Thomas Cromwell, Wriothesley's star continued to rise. In April 1540, Wriothesley was appointed joint principal secretary to the King along with Ralph Sadler. In the very same month, he was elected to the Privy Council and knighted. He was trusted to be part of the delegation that spoke with the King about the adulterous actions of Henry VIII's fifth wife, Katherine Howard, as well as being instructed to interview the Queen about her alleged affairs.
On 29 January 1543, Wriothesley had the great distinction of becoming Joint Chamberlain of the Exchequer. Between 1542 and 1544 Wriothesley worked closely with the Imperial ambassador, Eustace Chapuys, to see an Anglo-Habsburg alliance formed between England and Spain against the common enemy France. Over the next year, Wriothesley was trusted with taking messages to Charles V, Holy Roman Emperor on behalf of Henry VIII. In 1542, Chapuys described Wriothesley as one of 'the two people who enjoy nowadays most authority and have the most influence and credit with the king'.
When England went to war with France in 1544 Wriothesley was appointed to Queen Katherine Parr's (Henry VIII's sixth wife) regency council. He held the position of treasurer of the wars and was responsible for raising money to fund the wars, a role which he found extremely difficult and draining.
On 1 January 1544, Wriothesley was elevated to the peerage as Baron Wriothesley of Titchfield. Then on 23 April the following year he was elected a Knight of the Garter, the most prestigious order of chivalry in England. The very next day his youngest son Henry was baptised; the King himself acting as Godfather.
On 3 May 1544, Thomas Wriothesley was granted the most prestigious position of Lord Chancellor. This position effectively made Wriothesley one of the most important men of the court and also made him responsible for the King's Great Seal. One of his roles as Lord Chancellor was to open Parliament in 1545 and preside over the Upper House. In the Parliament of January 1547, Wriothesley was among a group of men that were authorised to sign acts on behalf of the ailing Henry VIII.
Wriothesley was devout in his religious beliefs and strongly enforced the King's religious policies, willing to act harshly and even cruelly at times against those who he believed deserved to be punished. He actively sought out both Protestants and Catholics who he believed had broken the King's and Church's laws. One of his most famous victims was Anne Askew. Brought before him in May 1546, Anne was examined in the hope that she would confess to her heretical beliefs and in the process expose Queen Katherine Parr. Refusing to confess anything, Anne was taken to the Tower of London. There she was racked personally by Wriothesley and Sir Richard Rich. Racking a woman was illegal at the time and yet no punishment seems to have befallen Wriothesley for his actions. Wriothesley attended Anne Askew's execution on 16 July 1546.
In the last month of Henry VIII's life, Wriothesley was active in gathering the accusations made against the Earl of Surrey, accusations which accused the young man of seeking to take the throne from Henry VIII's son Edward when the King was dead. Wriothesley also examined Surrey and was part of the jury in the Earl's trial on 13 January 1547. Wriothesley witnessed the written confession of Surrey's father, Thomas Howard, 3rd Duke of Norfolk in which he was charged with seeking to put his son on the throne.
On 27 January 1547, King Henry VIII died. It was Wriothesley's duty as Lord Chancellor to announce the King's death to parliament. Not unsurprisingly Wriothesley benefited greatly upon Henry VIII's death, being rewarded with £500 and being appointed as one of sixteen men to sit upon the council for the young King Edward VI. In addition to this, he was created Earl of Southampton with an annual allowance of £20.
At Edward VI's coronation, Wriothesley had the great honour of carrying the new King's sword of state however only a fortnight later he was suddenly confined to his home at Ely Palace. In addition to this, the Great Seal was taken from him and he was fined £4000. Even more drastically, he was removed from the new King's council. Wriothesley's offence was that he had abused his position and authority. However, this was only a façade and the real issue lay with his opposition of Edward Seymour, Duke of Somerset and Uncle to Edward VI. Upon Henry VIII's death, a council of sixteen men were set up to help govern England and young Edward VI. Both Seymour and Wriothesley were on this council and members of the council quickly appointed Seymour as Lord Protector – effectively the head of the council. While he had authority, he was supposed to support the majority decision of the council and his powers were limited. Wriothesley opposed Seymour's new position and Seymour, supported by Baron Rich and Sir John Baker, used the allegation of abusing his power against Wriothesley to see him removed from the council and effectively out of the way.
Wriothesley accepted his fall graciously, most likely to save himself as he realised he was greatly outnumbered on the council. On 29 June 1547, Wriothesley was released from house arrest and his fine cancelled. Surprisingly he was allowed back onto the King's Council and also attended parliament regularly between 1547 and 1549.
In 1549, a move was made against Edward Seymour, Duke of Somerset and the Lord Protector. Wriothesley was part of a conservative religious group, including the 12th Earl of Arundel, which sought to see Seymour from power. The coup worked for a time and when Seymour was removed from his position Wriothesley obtained a measure of power, even having the honour of serving the King. However this did not last long and soon Wriothesley and Arundel were expelled from court.
In January 1550, Wriothesley was under house arrest once more and soon had his name removed from the council. However, by now Wriothesley was ill and, on 30 July 1550, he died at Lincoln House, London. He was buried at St Andrew's Church, Holborn; however on the 3rd of August his body was reburied at Titchfield.
Thomas Wriothesley is a man difficult to define. Many of his contemporaries described him as intelligent, efficient and effective in his duties, with great ambition. While others thought him to be too ambitious for his own good and easy to anger. His personal religious beliefs are equally as difficult to determine. He appeared to be a Catholic, opposing Edward Seymour's evangelical pursuits; however he strongly supported the dissolution of the monasteries and the King's position as the Supreme Head of the Church. It may simply be that Wriothesley was a man of his time, attempting to see which way the wind was blowing and positioning himself in such a way that he would stay in power. Sadly his strategy proved to be his downfall.
Sarah Bryson is the author of "Mary Boleyn: In a Nutshell" and "Charles Brandon: The King's Man". She is a researcher, writer and educator who has a Bachelor of Early Childhood Education with Honours and currently works with children with disabilities. Sarah is passionate about Tudor history and has a deep interest in Mary Boleyn, Anne Boleyn, the reign of Henry VIII and the people of his court. Visiting England in 2009 furthered her passion and when she returned home she started a website, queentohistory.com, and Facebook page about Tudor history. Sarah lives in Australia, enjoys reading, writing, Tudor costume enactment and wishes to return to England one day.
Sources
Institute of Historical Research, WRIOTHESLEY, Thomas (1505-50), of Micheldever and Titchfield, Hants and Lincoln Place, London, The History of Parliament, viewed 5 May 2016, http://www.historyofparliamentonline.org/volume/1509-1558/member/wriothesley-thomas-1505-50.
Life of Thomas Wriothesley intrinsically linked to Hampshire's history, Hampshire History, viewed 5 May 2016, http://www.hampshire-history.com/hampshires-greatest-nobleman/.
Oxford Dictionary of National Biography, Wriothesley, Thomas, first earl of Southampton (1505-1550), Oxford University Press, viewed 5 May 2016, http://www.oxforddnb.com/.