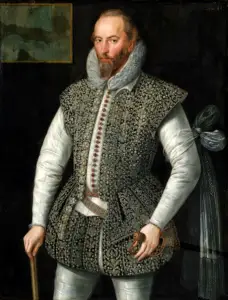 Here is a brief bio or factfile of Sir Walter Ralegh, the famous Elizabethan explorer:
Birth - c1552, perhaps 22nd January, in East Budleigh, Devon, England.
Parents - Walter Ralegh and Catherine Champernowne, niece of Kat Ashley, governess and friend of Elizabeth I. Catherine was married twice and Ralegh's father (also Walter) was her second husband.
Siblings - Ralegh's mother had sons from her first marriage and from her second marriage, a total of five. Three of Ralegh's half-brothers were prominent at the Elizabethan and Stuart Court - John, Humphrey and Adrian Gilbert. His brother, Carew Ralegh, was also prominent.
Religion - Ralegh's family were Protestants and his father had narrowly escaped execution during the reign of the Catholic Mary I. In 1590, Ralegh was named as an atheist with others, including Christopher Marlowe.
Education - Not much is known about his education. He was registered at Oxford's Oriel College, but it looks like he went to fight on the Huguenot side in the French Wars of Religion instead, fighting at the Battle of Jarnac in 1569. Ralegh was then registered at Middle Temple, one of the four Inns of Court, in 1575, but it appears that he never actually studied law.
Career as a soldier - As I have already said, Ralegh fought with the French Huguenots at the Battle of Jarnac and then he was in Ireland between 1579 and 1583 and was involved in the Desmond Rebellions. After the rebellions Ralegh was awarded 40,000 acres of land in Munster.
Life in Ireland - Ralegh was a landlord in Ireland for 17 years and he lived in Killulagh Castle and also the town of Youghal, where he was mayor in 1588 and 1589. It was in Ireland that he met the famous Elizabethan poet, Edmund Spenser, author of The Faerie Queene. It is alleged that it was Ralegh who introduced potatoes to Ireland, and also to Europe, but it is likely that the Spanish brought them back to Europe first.
Ralegh the Explorer - Ralegh sailed to America in 1578 with his half-brother, Sir Humphrey Gilbert, and it is thought that this voyage sparked off his plan to found a colony there, in the present day states of North Carolina and Virginia. In 1585 he put his plan into action, at Roanoke Island, but it failed, as did a second attempt in 1587, as they just did not have the amount of funding needed to run a colony of this type and also because in 1587 England was at war with Spain and all English ships were seized to use in the English fleet, meaning that supplies could not be sent to the colony until 1590 when it was found that the colony had been wiped out, either by starvation or by an attack from a native tribe.
Ralegh and Elizabeth I - Ralegh's suppression of the rebels in Ireland brought him to the attention of the Queen and he was knighted in 1585 and made Lord Warden of the Stannaries, Lord Lieutenant of Cornwall and Vice Admiral of Devon and Cornwall. In 1585 and 1586 he was a Member of Parliament for Devon, in 1592 he was awarded Durham House and the estate of Sherborne, and in 1597 he was made Captain of the Yeoman of the Guard.
The Queen was impressed with his quick wit and his looks - he was tall and handsome. There are many colourful stories told about his time as one of the Queen's favourites, including the story that he laid his cloak over a muddy puddle so that the Queen did not have to get her feet wet and dirty. It is not known whether this really happened.
Marriage
- In 1591, Ralegh secretly married Elizabeth Throckmorton, known as Bess, daughter of the diplomat Sir Nicholas Throckmorton and a Lady of the Privy Chamber. Bess was pregnant when they married and gave birth to a son named Damerei. Unfortunately the little boy died of the plague when he was six months old.
In 1592, Ralegh was recalled from an expedition at sea by an irate Elizabeth I who had discovered his secret marriage and was furious that he had married one of her ladies without her permission. He was thrown into the Tower of London but was released when the Queen needed him to supervise the distribution of the spoils from the "Madre de Dios", a Portuguese carrack.
He and Bess had a happy marriage and had two more sons, Walter (Wat) and Carew.
More Exploration - Ralegh retired from court to his estate at Sherborne in Dorset, when he fell in favour. There, he built Sherborne Lodge, now known as Sherborne Castle. However, he got 'itchy feet' and in 1595 sailed on a voyage of exploration to South America in search of El Dorado. He wrote an account of his voyage, "The Discovery of Guiana", which was published when he returned to England.
In 1596 he was involved in the capture of the Spanish port of Cadiz and then in 1597 he was second in command to Robert Devereux, Earl of Essex, on The Islands Voyage campaign against Portuguese colonies in the Azores. The voyage was a failure.
Later Life - In 1597 he was a Member of Parliament for Dorset and in 1601 for Cornwall. He served as Governor of Jersey from 1600 to 1603, modernising the island's defences by constructing a new fortress, Elizabeth Castle.
In 1603, Queen Elizabeth I died and James VI of Scotland inherited the throne and became James I. Ralegh's views on war did not match the new monarch's plans for peace and Ralegh found himself being turfed out of Durham House and dismissed from his offices of Captain of the Yeoman of the Guard and Governor of Jersey. He was thrown into the Tower of London in July 1603 after being implicated in some plots against the King, including The Main Plot (the Treason at Maine) . He was tried for treason on the 17th November 1603 at Winchester Castle, where he skilfully defended himself against the evidence, a signed confession made by Henry Brooke, Lord Cobham. Ralegh was found guilty but James I spared his life.
Imprisonment - During his imprisonment in the Tower, from 1603 to 1616, Ralegh wrote some treatises and the first volume of his famous "The Historie of the World". He was released from the Tower in 1616 to undertake another expedition to Guiana (Venezuela) to find El Dorado. The voyage was a failure and incurred the wrath of Spain when the English stormed and occupied the Spanish settlement of San Thomé, killing the Spanish governor. Ralegh's son, Walter, was also killed in the attack. Spanish ambassador, Count Gondomar, demanded that James I reinstate Ralegh's death sentence from his trial in 1603 and Ralegh was arrested on his return to England and thrown in the Tower once again.
Ralegh was tried on 28th October 1618 in front of Sir Henry Montagu, Lord Chief Justice, and the 1603 death sentence was reinstated.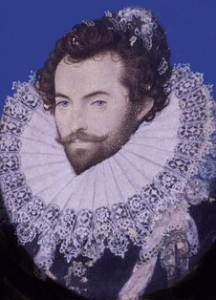 Death - Sir Walter Ralegh was executed on the 29th October 1618 in the Old Palace Yard at Westminster Palace. At his execution, Ralegh made a forty-five minute speech and then turned to his executioner: "Let us dispatch. At this hour my ague comes upon me. I would not have my enemies think I quaked from fear" and that after he saw the axe that was going to decapitate him, he commented, "This is a sharp Medicine, but it is a Physician for all diseases and miseries." He then commanded "Strike, man strike!" and he was beheaded.
Ralegh's body was buried first in a churchyard in Beddington, Surrey and then moved to St Margaret's Westminster. His head was embalmed and given to his wife, Bess Throckmorton, who was said to carry it around with her until her death in around 1647 when it was laid to rest in his tomb at St Margaret's.
Ralegh the Poet - Sir Walter Ralegh was not just a soldier and explorer, he was also a poet and his poems include "What is Our Life", "The Lie" and "The Nymph's Reply to the Shepherd" which was a response to Christopher Marlowe's "The Passionate Shepherd to His Love".
Trivia - Ralegh County in Virginia is named after Sir Walter Ralegh. He is famous for making tobacco smoking popular in England. Ralegh's surname can be spelled many different ways - Raleigh, Ralegh, Rawley, Ralagh and Rawleigh - but Sir Walter actually spelled it "Ralegh".
Sources and further reading
Sir Walter Ralegh, Luminarium: Anthology of English Literature
Walter Raleigh, BBC History
Ronald, Susan (2007) The Pirate Queen: Queen Elizabeth I, her Pirate Adventurers, and the Dawn of Empire, Harper Collins Publishers, New York.
Sir Walter Ralegh Wikipedia page https://en.wikipedia.org/wiki/Walter_Raleigh. Wikipedia can be very 'hit and miss' regarding historical accuracy, but this page is well-referenced.