2 November
All Souls' Day - a day to remember and pray for the dead.
1470 – Birth of Edward V, son of Edward IV and Elizabeth Woodville, in Westminster Abbey sanctuary during his father's exile. He was baptised there. In June 1471, his father made him Prince of Wales and Earl of Chester. His father died in April 1483, making Edward King Edward V, but his uncle, Richard, Duke of Gloucester, claimed the throne as Richard III. Edward and his brother, Richard, Duke of York, disappeared and their fate is unknown. They became known as the Princes in the Tower, and there is still controversy today over what happened to them.
1541 - Henry VIII attended All Souls' mass and found a letter left for him by Archbishop Cranmer. It detailed Catherine Howard's colourful past, and how she had "lived most corruptly and sensually".
1581 – Death of Gilbert Berkeley, Bishop of Bath and Wells, at Wells. He was buried at the cathedral and his tomb chest can still be seen today, in the aisle of the north chancel.
3 November
1568 – Death of Nicholas Carr, physician, classical scholar and Pegius professor of Greek at Cambridge. He was laid to rest in St Michael's Church, Cambridge, and a monument was erected in his memory at St Giles's Church. His works included De Scriptorum Britannicorum Paucitate et Studiorum Impedimentis Oratio, Epistola de morte Buceri ad Johannem Checum, Eusebii Pamphili de vita Constantini and Demosthenis Graecorum Oratorum Principis Olynthiacae orationes tres, et Philippicae quatuor, e Greco in Latinum conversae.
1592 - Death of Sir John Perrot, Privy Councillor and former Lord Deputy of Ireland, at the Tower of London. He died a destitute, convicted traitor. Some believe him to have been the illegitimate son of Henry VIII. He was buried in the Chapel of St Peter ad Vincula at the Tower.
4 November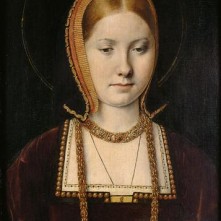 1501 – Catherine of Aragon met Arthur, Prince of Wales, for the first time at Dogmersfield in Hampshire. They married ten days later at St Paul's.
1530 – William (some say Walter) Walsh and Henry Percy, Earl of Northumberland, arrived at Cawood Castle and arrested Cardinal Thomas Wolsey for high treason.
1538 - Henry Pole, 1st Baron Montagu, was arrested for treason along with his brother-in-law, Sir Edward Neville; Henry Courtenay, Marquis of Exeter, and Courtenay's family (wife Gertrude Blount and son Edward Courtenay). The three men were accused of conspiring against the King, seeking to deprive the King of his title of supreme head of the church and plotting with Cardinal Reginald Pole, the exiled brother of Montagu.
1551 – Date given in the epitaph of John Redman, theologian and first Master of Trinity College, Cambridge. He died of consumption and was buried at Westminster Abbey, in the north transept. Redman's works included De justificatione, which he presented to Henry VIII in 1543, and "A Necessary Doctrine and Erudition for any Christian Man".
5 November
1514 – Mary Tudor, sister of Henry VIII, was crowned Queen of France. She had married King Louis XII at Abbeville on the 9th October 1514. The marriage was rather short-lived, as Louis died on the 1st January 1515, and Mary went on to marry Charles Brandon, Duke of Suffolk.
1520 – Death of Sir Robert Poyntz, courtier, landowner and Vice-Chamberlain and Chancellor of the Household to Queen Catherine of Aragon. He was around seventy when he died.
1530 – Death of Sir John More, lawyer, judge and father of Sir Thomas More. More served as Serjeant-at-Law, Justice of Assize, Justice of the Common Pleas, and also served on the King's Bench from 1520 until his death.
1605 - Guy Fawkes was caught with thirty-six barrels of gunpowder in the cellars beneath Westminster. The idea was to blow up the House of Lords at the opening of Parliament on the 5th November, and to assassinate King James I.
6 November
1514 - Mary Tudor, Queen of France, processed into Paris following her coronation the day before at St Denis.
1541 – Henry VIII abandoned his Catherine Howard, his fifth wife, at Hampton Court Palace. The investigation into John Lassell's claims that Catherine had two sexual relationships during her time in the Dowager Duchess of Norfolk's household had proved them true.
1558 – Baptism of Thomas Kyd, translator and playwright, at St Mary Woolnoth in London. Kyd is known for his play "The Spanish Tragedy".
1612 – Death of Nicholas Fitzherbert, author and former secretary of Cardinal William Allen, near Florence in Italy. Fitzherbert drowned while trying to ford a stream en route to Rome. Fitzherbert left England in the 1570s because of his Catholic faith and to study law at Bologna. In 1580, while he was in Italy, he was attainted of treason back in England due to his Catholic faith. He was buried at Florence, in the Benedictine abbey.
1617 – Death of William Harborne, merchant and diplomat, at Mundham in Norfolk, Harborne served Elizabeth I as the English ambassador to the Ottoman Empire in Constantinople. He was buried at Mundham.
7 November
1485 – Richard III and his supporters were attainted at Henry VII's first Parliament.
1541 - Archbishop Thomas Cranmer and the Duke of Norfolk went to Hampton Court Palace to interrogate Queen Catherine Howard, and to arrange that she should be confined to her chambers there.
1557 – Death of Sir John Arundell of Lanherne. He was buried at St Mawgan Church. Arundell served Henry VIII as Sheriff of Cornwall and Commander of troops against the rebels during the Pilgrimage of Grace. He also served in France in 1544. During Edward VI's reign, in 1549, he was imprisoned after John, Baron Russell, accused him of refusing to raise troops and of ordering the mass to be performed. He was released in June 1552.
1565 – Death of Sir Edward Warner, soldier, member of Parliament and Lieutenant of the Tower of London during the reigns of Edward VI and Elizabeth I. He was the gaoler of Katherine Seymour (née Grey), Countess of Hertford, who had been imprisoned for secretly marrying Edward Seymour, Earl of Hertford. Warner died in Norfolk and was buried at Little Plumstead Church in the county.
1568 – Baptism of Dunstan Gale, poet and author of "Pyramus and Thisbe", at St Giles Cripplegate, London.
1581 – Death of Richard Davies, scholar and Bishop of St David's, in Abergwili, Camarthenshire, in the bishop's palace. He was a friend of Matthew Parker, Archbishop of Canterbury, and undertook translations of parts of the Bible.
1603 – Burial of Robert Allot, literary compiler, bookseller, poet and editor of the 1599 "Wits Theater" and the 1600 "Englands Parnassus", at St Ann Blackfriars.
8 November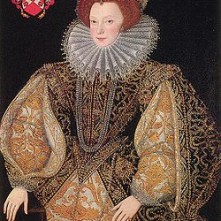 1528 – Henry VIII made a public oration to "the nobility, judges and councillors and divers other persons" at Bridewell Palace to explain his troubled conscience regarding the lawfulness of his marriage to Catherine of Aragon. In this speech, the King explained that due to his worry that Mary was not his lawful daughter and that Catherine was not his lawful wife, he had sent for a legate "to know the truth and to settle my conscience."
1534 – Death of William Blount, 4th Baron Mountjoy, courtier, scholar and literary patron, at Sutton on the Hill in Derbyshire. He was buried at Barton Blount. Mountjoy was a pupil of the great humanist scholar, Erasmus, and served Henry VIII as Master of the Mint and Chamberlain to Catherine of Aragon. It was Mountjoy who had to tell Catherine of her demotion to Princess Dowager in July 1533.
1541 - Archbishop Thomas Cranmer returned to Hampton Court Palace to interrogate Catherine Howard, Henry VIII's fifth wife and queen.
1543 – Birth of Lettice Knollys, daughter of Sir Francis Knollys and Catherine Carey, granddaughter of Mary Boleyn and wife of Walter Devereux, 1st Earl of Essex; Robert Dudley, 1st Earl of Leicester; and Sir Christopher Blount. Lettice was also mother to Robert Devereux, 2nd Earl of Essex; Penelope Rich, Lady Rich; and Dorothy Percy, Countess of Northumberland.
1602 – The opening of the Bodleian Library (Bodley's Library), Oxford, to the public.
1605 – Deaths of Gunpowder Plot conspirators Robert Catesby and Thomas Percy at Holbeche House on the Staffordshire border. It is thought that they were both shot by a single bullet fired from the gun of John Street of Worcester. Their heads were displayed on London Bridge.