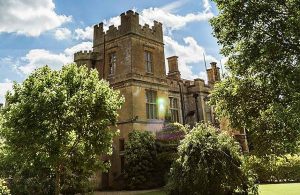 Today we have a guest post from the DigVentures team who are currently working at Sudeley Castle. Thank you to Maiya of DigVentures for contacting me and sending me this article. It's a wonderful project so please do consider helping to fund it.
Over to them...
Tudor history fans are being invited to help archaeologists unearth a remarkable set of ruins recently discovered in the grounds of Sudeley Castle.
Sudeley Castle, in the Cotswold town of Winchcombe, was one of the Tudors' most beloved palaces and housed many of those closest to the crown. It's where Anne Boleyn stayed with Henry VIII while he decided to dissolve the monasteries and where Katherine Parr, his last wife, later lived after he died.
Now, a small team of archaeologists from DigVentures are on a mission to unearth traces of another remarkable moment in Tudor history: a famously epic three-day party attended by Elizabeth I to celebrate her victory over the Spanish Armada, held somewhere in the castle grounds.
Every summer, Elizabeth and her court would leave London on a royal 'progress', visiting towns, villages and cities around the country, and staying at the grand houses of her noblemen, often for weeks at a time. These visits served a dual purpose. While the "honour" of such a visit was an opportunity to impress, they could also reduce a lord's wealth substantially – a clever way of keeping her nobles in check.
Historical records indicate that in the summer of 1592, Elizabeth I and her retinue arrived at Sudeley Castle. It was the eve of the fourth anniversary of her victory over the Spanish Armada, and she was clearly in the mood to celebrate; the ensuing party continued for three whole days, devouring their stores. By the time they finally left, her host the third Lord Chandos had nearly bankrupted himself.
When DigVentures' archaeologists were called in to examine a mysterious grassy hump in the castle grounds, the team soon realised that they were looking at a substantial platform, just like those on which a banqueting house would be constructed. After years of searching, experts from Sudeley Castle now believe that this grassy mound is where Elizabeth's epic celebration took place.
"What's really interesting is that our preliminary investigation suggests that this banqueting house was probably a temporary structure built especially for the occasion," said Lisa Westcott Wilkins from DigVentures.
Historians are also increasingly beginning to express the importance of more temporary structures like royal tents and timber lodgings in Tudor England. Not only were they often enormous and elaborate undertakings that took weeks to build, they are also vital for a proper understanding of Tudors politicking through itinerancy, and displays of wealth and magnificence.
One particularly detailed description of a temporary banqueting house built at Whitehall in 1581, ahead of negotiations for Elizabeth's potential marriage to the Duc d'Alencon, states that the 332 foot long structure took 3 weeks and 3 days to build, was held up with 30 masts, and involved 375 people. The canvas walls were painted to look like stone, the roof was painted with stars, clouds and sunbeams to look like the sky, while the insides decorated with "292 glass lights… and… all manner of strang[e] flowers… garnished with spangs of gould [and fruits like] pomegarnetts, orrnges pompions, cowcumbers, grapes, carettes, peas and such like".
"This discovery at Sudeley Castle gives us a rare opportunity to uncover the physical remains of one such structure, and the chance to recover evidence of one of the most famous parties in English royal history is simply too good to miss!" said Lisa Westcott Wilkins.
DigVentures is now crowdfunding a two-week excavation to investigate the remains, and inviting Tudor history enthusiasts to take part.
"We are delighted to invite Tudor history lovers and budding archaeologists to join us in this process as we investigate an absolutely stunning piece of Tudor history, and learn more about the role of temporary structures in the Tudor period, especially during the reign of Elizabeth I" she added.
And as we approach the 500th anniversary of the Field of Cloth of Gold, the meeting that took place just outside Calais in 1520 between Henry VIII and Francis I, King of France, and which took its name from the array of fabulous golden tents that housed the two kings' entourages, the potential significance of this discovery becomes all the more clear.
England's last surviving original Tudor garden
But there's even more to the remains at Sudeley Castle than meets the eye. A geophysical survey has confirmed that the banqueting house does not stand alone, but is in fact surrounded by a buried Tudor garden.
Just as deer parks were used to cement social and political relationships in the early 16th century, Tudor gardens became places to entertain, feast, and to display newly found wealth, success and power. This was especially true during the reign of Elizabeth I, whose love of display accelerated the creation of increasingly elaborate gardens.
Unlike her father, for whom it was unthinkable that any noble might live in more splendid surroundings than his own, Elizabeth egged them on. Dudley and Cecil, her two closest advisers, famously competed for her attention by creating ever more elaborate gardens, filled with extravagant statues, ornamental features and exotic plants.
And yet, despite their extravagance, most Tudor gardens were destroyed in the 18th and 19th centuries when a popular landscaping craze spearheaded by Capability Brown swept the country. Sudeley Castle is one of perhaps only two in the whole country where the original paths are still in place, making it one of England's last surviving Tudor gardens.
"Finding an intact Tudor garden like this is an astonishingly rare occurrence," said Sudeley Castle's general manager Wendy Walton. "Bringing it back to the surface would be an amazing achievement, and gives us the chance to find out what it would have been like in the days when Anne Boleyn, Elizabeth I and Katherine Parr, Henry VIII's last wife, walked its pathways" she added.
How can Tudor history lovers help the archaeologists?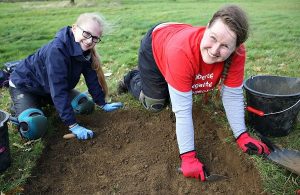 DigVentures is now crowdfunding a two-week excavation to unearth the remains, and are inviting Tudor history enthusiasts to help.
Crowdfunders who live outside the UK will be able to watch the discoveries online through a series of live broadcasts, including an exclusive talk by author and historian Philippa Gregory who is championing the project.
Those lucky enough to be able to travel to Sudeley Castle can opt to get hands-on and spend a day digging with DigVentures' archaeologists, learning how to excavate, interpret finds and make real Tudor discoveries of their own.
The project has strong local support, and is already over 45% funded, but is also gaining support from Tudor history enthusiasts around the world, including America, the Netherlands, Norway, New Zealand and Australia.
"There's a tremendous amount of history in the ground there, which no one has seen since it was buried. I'm really excited about this project and can't wait to see what gets found" Philippa Gregory has said. "Wherever you are in the world, you can support this wonderful project by crowdfunding the dig. Thanks to DigVentures, even those who can't attend in person will be able to watch live events from the dig online, including my talk," she added.
If you would like to contribute via the link below, you'll be able to help unearth evidence of a remarkable moment in Tudor history.
Contribute at digventures.com/projects/sudeley-castle
About Sudeley Castle:
For nearly 1,000 years, Sudeley Castle has hosted some of England's most famous monarchs including Henry VIII. It is also where Katherine Parr, Henry's last wife, later lived and was finally laid to rest. Today Sudeley Castle is widely recognised as one of the most romantic and beautiful castle buildings in England, surrounded by a 1,200 acre estate and 10 award-winning gardens.
For more information contact:
Wendy Walton
[email protected]
01242 602 308
sudeleycastle.co.uk
About DigVentures:
DigVentures crowdfunds archaeological excavations that anyone take part in, online or in the field. Over the last few years, they have crowdfunded in-depth investigations at a number of the UK's most iconic sites, including the Bronze Age settlement at Flag Fen, the Anglo-Saxon monastery on Lindisfarne, and one of the earliest Roman settlements ever discovered in East Yorkshire. DigVentures is registered with the Chartered Institute for Archaeologists, and runs the UK's only accredited fieldschool.
For more information contact:
Lisa Westcott Wilkins
[email protected]
+44 0333 011 3990
digventures.com