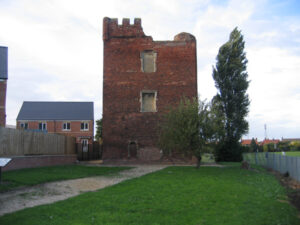 On this day in Tudor history, 12th May 1537, John Hussey, 1st Baron Hussey of Sleaford, Chief Butler of England, was charged with treason.
Hussey, who was born 1465/6 had been appointed Chief Butler of England in 1521 and also served as a Member of Parliament, sheriff of Lincolnshire and steward to the Bishop of Lincoln. He served Henry VIII's eldest daughter, Mary, as her chamberlain and his second wife, Anne, was one of Mary's ladies. Anne actually ended up in the Tower of London for a short time after referring to Mary as "Princess" rather than "Lady" after Mary had become illegitimate by Act of Parliament.
Following the Pilgrimage of Grace rebellion, which broke out in Hussey's home county of Lincolnshire, Hussey was charged with treason for conspiring against Henry VIII and raising a rebellion against the king. The charges against Hussey, however, were unfair as he had refused to join the rebels and told them to return to their homes. What's more, to prevent the rebels taking him and forcing him to join their side, Hussey disguised himself as a priest and fled. Just how is that committing treason?!
Sadly, the baron's staunch Catholic faith and his support of the Lady Mary, Henry VIII's eldest daughter, led to him being implicated in the rebellion. He was executed in Lincoln on 29th June 1537.
Also on this day in Tudor history...
Photo: The ruins of Baron Hussey's home, Hussey Tower, by Rodney Burton.