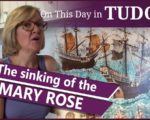 On this day in Tudor history, 19th July 1545, Henry VIII's flagship, the Mary Rose, sank right in front of his eyes in the Battle of the Solent between the English and French fleets.
But why did the Mary Rose sink?
In today's talk, I share the various theories on the sinking of the Mary Rose, as well as talking about the salvage operations over time, her raising in 1983, and the work of the Mary Rose Trust.
[Read More...]