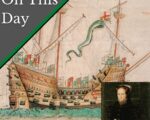 On this day in Tudor history, 19th July 1545, in the reign of King Henry VIII, the king's flagship, the Mary Rose, sank right in front of his eyes.
She sank in the Battle of the Solent between the English and French fleets.
But why did the Mary Rose sink?
[Read More...]