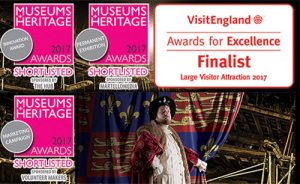 The Mary Rose Trust has just let me know that they have been shortlisted for a number of awards and would really appreciate it if people who have enjoyed visiting the Mary Rose would help by voting for them.
Here is what Sally Tyrrell from the Mary Rose Trust explained to me:
"The Mary Rose has been shortlisted for a number of awards recently. 'Mary Rose Revealed' has been shortlisted for three Museums and Heritage Awards, for 'Best Permanent Exhibition', 'Best Innovation' (Crew Films) and 'Best Marketing Campaign'.
In addition, please vote for it in the World Travel Awards in the category of 'Leading European Visitor Attraction'. CEO Helen Bonser-Wilton says: "We are up against Buckingham Palace, Acropolis in Athens, Colosseum in Rome, Eiffel Tower and Titanic Belfast, so we need all the votes we can get!"
Fingers crossed and do please urge friends and family to support!"
You can click here to vote now.