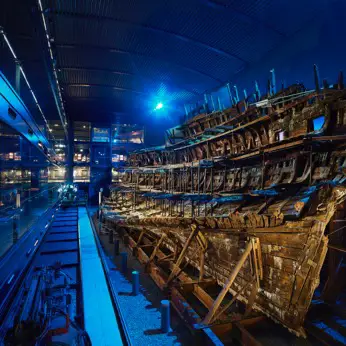 I've been sent a press release regarding key parts of the Mary Rose, Henry VIII's favourite warship, being displayed for the first time since she sank in 1545. They will be on display at the Mary Rose Museum in Portsmouth, just in time for the UK's half-term.
The parts going on display include:
The ship's stem – a crucial structural piece of timber that curves upwards from the keel to define its bow. It eluded underwater archaeologists until 2003 and has since undergone excavation and conservation. The rediscovered stem can now finally be seen in the Weston Ship Hall, at the heart of the Mary Rose experience. It allows visitors to see the length and curve of the ship's bow, adding a crucial piece of the Mary Rose jigsaw.
The ship's pump
One of the ship's huge anchors
The Mary Rose and all the Tudor artefacts found with her are one of the largest collections of Tudor objects in the world.
The display of these essential artefacts coincides with the 40th anniversary of the Mary Rose Trust, which works tirelessly to conserve and display the remains of the Mary Rose and her objects. The Mary Rose had been the pride of Henry VIII before she sank fighting a French invasion fleet during the Battle of the Solent in 1545.
Dr Alexzandra Hildred, Head of Research and Curator of Ordnance and Human Remains, joined the project in 1979 and has been part of the Mary Rose story ever since. Alexzandra comments: "It is difficult to perceive that 40 years has passed since the formation of the Trust, it has gone in the blink of an eye." Alexzandra adds that reuniting the newly conserved stem with the Mary Rose "is an apt way to celebrate this important anniversary and demonstrates our continuing fulfilment of the objectives of the Trust."
Did you know that 19,000 artefacts have been recovered from the Solent so far, but a significant number remain in the seabed? The Trust is instrumental in continuing this ongoing archaeological effort and safeguarding these finds.
This half term, visitors can visit the brand-new exhibits at the Mary Rose museum with 30% off tickets bought online from the 15th – 24th February.
For further details, please visit www.maryrose.org/ before your visit.
The Mary Rose
Main Road
Portsmouth
PO1 3PY
Tel: +44 (0) 23 9281 2931
Opening times: At the moment, the museum is open daily 10am-5pm, with last entry at 4.15pm.