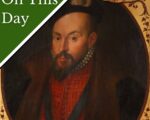 On this day in Tudor history, 26th August 1549, in the reign of King Edward VI, John Dudley, Earl of Warwick, received 1,000 mercenaries as reinforcements to fight the rebels of Kett's Rebellion.
Kett's Rebellion had begun in East Anglia in early July 1549. The rebels were unhappy with the enclosure of common land.
They attacked and took Norwich on 22nd July 1549 and William Parr, Marquess of Northampton, was sent with crown forces to win back the city. However, he was defeated. The Earl of Warwick was then sent to the area with a large army, which was bolstered with the arrival of the mercenaries on this day in 1549. The next day, Warwick's forces met the rebels at the Battle of Dussindale. There were heavy losses on both sides, but Warwick was victorious. The rebellion had been brought to an end.
[Read More...]