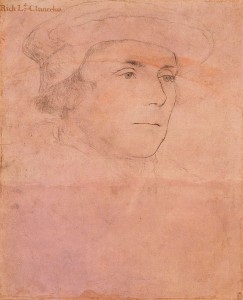 Richard Rich, 1st Baron Rich, we're led to believe, was born in 1496. The dating of his birth comes from the fact that in 1551 he was said to have been around 54 years of age. He was born in Basingstoke, Hampshire. His father was John Rich, and his mother was Agnes, and it is believed that he may have had ties to the Rich family that was prominent in the Mercers' Company during the 15th century. The connection came from his father John, for he owned a house in Islington, Middlesex, which he left to his son on his death in 1509.
Rich studied at Cambridge University, where he studied law, but come 1516 he had entered the Middle Temple and went on to form an alliance with Sir Thomas More, who many years later during his trial stated that he had known the young Richard. During his time at the Middle Temple, he worked with More due to them both being members and under the same inn. He served as a butler in the Middle Temple from 1519-1520 and then from 1520-1525 he was a reader at the New Inn. Come 1526, he was unfortunately beaten in his efforts to become the 'common sergeant' of London, but in 1528 he wrote a letter to Cardinal Wolsey in which he suggested that there should be a reform of the common law. He then also offered to tell all on the daily abuse that was received, and suggested remedies to stop this. That year, in the December, to Rich's surprise, he was placed on the commission for peace in Hertfordshire where he was then made commissioner of the sewers in February 1529.
1529 was the year that made Rich a reader in the Middle Temple, and by the November he was returned for the burgesses of Colchester to the 'Reformation' parliament. Rich was later appointed as 'attorney-general' for Wales in 1532 and also chief steward of the southern parts of the Duchy of Lancaster, and this was when Rich's career really began to take off.
He got his first important legal position in October 1533 which was the post of 'solicitor-general'; he was also knighted on the same day. His new position involved working up drafts for important bills which included him working on the restraint of appeals to Rome. He was also set the task of prosecuting the opponents of royal supremacy. This prosecuting role led to him having to deal with the cases against the Bishop of Rochester, John Fisher, and also his old friend, Sir Thomas More. Rich was first sent to Bishop Fisher in the Tower of London where he is said to have examined him in May 1535, when he was sent to find out the bishop's decision on the royal supremacy. Fisher was assured that his views would not be shared with anyone but the king, but this very conversation was used to condemn him, for his words were evidence to convict him of treason.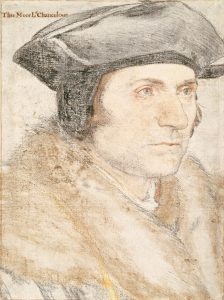 Rich also had an interview with Thomas More, on June 12th. He willed the chancellor to comply with the supremacy and he reported that More had denied it. At his trial, More accused Rich of perjury, saying 'in good faith, Mr. Rich, I am more sorry for your perjury than mine own peril; and know you that neither I nor any one else to my knowledge ever took you to be a man of such credit as either I or any other could vouchsafe to communicate with you in any matter of importance'. Since More's death, Rich's name has been blackened for the way he went about dealing with More, but their relationship during this time was complicated. Due to this discussion with Rich, More was condemned to death and Rich basked in his reward as overseer of liveries of lands and chirographer of common pleas.
Rich went on to marry in 1535, marrying Elizabeth Jenks, daughter and heir of London grocer, William Jenks. During their marriage, the pair had three sons and nine or ten daughters. Rich also had an illegitimate son.
On 20th April 1536, Rich was made surveyor of liveries and just four days later became the chancellor of the new court of augmentations. This job's role was based on him overseeing the dissolution of the monasteries which was something he appeared to take great pride in doing; something else that has led to the ruining of his reputation over time.
Rich had a sense of flattery about him and in one parliamentary speech 'he likened Henry to the sun which expels all noxious vapours and brings forth the seeds, plants, and fruits necessary for the support of human life'. This flattery no doubt helped him in his career.
By 1540, Rich had achieved much from his office of chancellor of the court of augmentations, including amassing a large estate in Essex. By 1541, however, Rich was having to work to try and clear his name after being accused of corruption by John Hillary. He was later pushed out of his position as chancellor of augmentations, and Edward North took over in his position. Rich went on to be named treasurer for the French war but resigned after a few months. It is believed that the king himself may have asked questions regarding Rich's probity where he then challenged Rich on his accounts, but his resignation may have been due to ill health. Despite all this, Rich continued to hold his other positions by keeping in with the Seymours.
Rich was created Baron Rich once he became an assistant executor of Henry VIII's will and continued to keep in the Seymours' good books. He went on to support Edward Seymour, Duke of Somerset, in the removal of Thomas Wriothesley from the chancellorship, which gained him the position of lord chancellor for his loyalty. However, things changed for him after he abandoned Somerset because he fell out of favour with John Dudley, Duke of Northumberland, after Rich was suspected of plotting with Somerset to overthrow Northumberland. Somerset was executed on 22nd January 1552, and it was thought that Rich would also be punished with imprisonment, but he was not.
In June of that year, he was among those in favour of Lady Jane Grey being named Edward VI's successor. As a reward, Rich received the honour of Rayleigh in Essex. But after King Edward's death on 6th July 1553, Rich did not do as he had promised - he did not raise the men he had promised in support of Jane. He then declared that his allegiance lay with Mary. He and his wife later went on to entertain Mary I in August of that year, where he was forced by Mary to restore some of the land he'd been awarded after the dissolution of the monasteries.
He survived the reign of Mary, appearing conservative in his beliefs. When Elizabeth I took the throne, he was not appointed to her privy council, but he did offer the queen advice at times, for example, regarding the subject of marriage.
Rich's wife died in 1558 and Rich drew up his final will in 1567, dying on 12th June that same year. His son Robert inherited his estates and also his title, but Rich made sure that his nine daughters and illegitimate son gained a legacy after his death. Finally, in 1620, Rich's great-grandson commissioned a monument by sculptor Epiphanius Evesham to be erected at Felsted to celebrate and recognise the achievements of Richard Rich.
Written by Charlotte Donovan.
Charlotte Donovan is a 23-year-old, recent BA Hons History Graduate from the University of Hull. Her favourite time period in History is the Tudor period and she has a huge love/interest for Anne Boleyn, Henry VIII and the people of the Tudor court. Charlotte is a writer who is currently halfway through writing her first book. She lives in Hartlepool with her partner where she works at the local college as a Learning Support Assistant, she loves to read/write and also watch TV dramatisations and documentaries of her favourite time periods within history. Charlotte is also a blogger for her own site With love, Charlotte x.
Pictures: Richard Rich, first Baron Rich (1496/77–1567), by Hans Holbein the Younger; Sir Thomas More by Hans Holbein the Younger.
Sources used