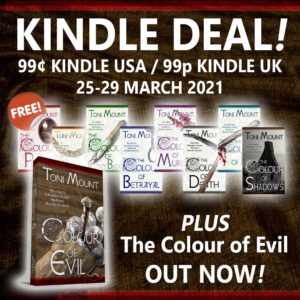 I know many of you enjoy historical fiction, so I just wanted to alert you to the fact that there are some special offers on the kindle versions of the Seb Foxley medieval mystery series from today until 29th March 2021. The series is written by our very own Toni Mount, who contributes to Tudor Life Magazine every month.
To celebrate the release of her latest Seb Foxley book, The Colour of Evil, Toni's first novel The Colour of Poison is free on kindle, and the others in the series are 99c/99p kindle countdown deals. You don't even need a kindle because you can download the kindle app for your PC, tablet or mobile device.
Huge congratulations to Toni on the release of The Colour of Evil today. I was able to read an advance copy and it's my favourite so far. I do love Seb and the other characters, plus I'm a fan of whodunnits!
Here are links for every book in the series:
http://getbook.at/colour_of_poison
http://getbook.at/colour_of_gold
http://getbook.at/cold_blood
http://getbook.at/color_of_betrayal
http://getbook.at/colour_of_murder
http://getbook.at/colour_of_death
http://getbook.at/colour_of_lies
http://getbook.at/colour_of_shadows
http://getbook.at/colour_of_evil