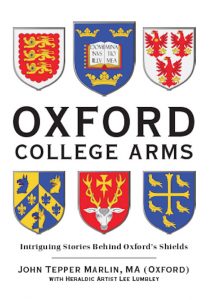 Thank you to John Tepper Marlin, MA (Oxon.), author of Oxford College Arms for writing this guest post for us.
Six Oxford colleges were founded under the Tudors. Three under Henry VIII, two under Mary I, and one during the reign of Elizabeth I.
As members of the Tudor Society will know, the Tudor dynasty started with Henry VII, son of Lancastrian Edmund Tudor and Margaret Beaufort, a descendant of Edward III. Henry VII was brought up in Wales but had exiled himself to France while the Yorkists were in power. After the disappearance of Edward V in 1483, his uncle Yorkist Richard III was crowned and soon made himself unpopular. Henry VII returned to Wales, assembled an army that defeated and killed Richard III at Bosworth Field in 1485, and was crowned king in London. By marrying Elizabeth of York the following year, Henry VII united the Houses of Lancaster and York and created as his badge the "Tudor Rose" – red outside, white inside–that ever since has been used by every British monarch as a symbol of England.
Brasenose College (1509)
Henry VII did not himself formally found any Oxford colleges. But two Oxford colleges were founded early in his son Henry VIII's reign, by the Bishops of Lincoln and Winchester, i.e., Brasenose and Corpus Christi Colleges. These were surely percolating through the hierarchy in Henry VII's time.
Brasenose was founded by the Bishop of Lincoln (whose See was by far the largest in England and included Oxford) and a Cheshire lawyer, the first non-bishop to cofound a college. The bishop himself was from Lancashire, as denoted by the red roses, so the college became a magnet for students from Cheshire and Lancashire.
Brasenose was notably the college of Rev. Lawrence Washington, greatgrandfather of George Washington, whose ancestors came from near Newcastle, in the metropolitan area (since 1972) of Tyne and Wear. During the time when Lawrence Washington was at Oxford as a student and a don, the Washington family lived in Northampton, not far from Oxford. The Washington coat of arms borne by Lawrence was inherited by George Washington, who used it extensively in his household. It was adopted as the flag of Washington, DC and many – including myself and Sir Henry Bedingfeld, Bart., former Norroy and Ulster King of Arms – think it inspired the Stars and Stripes.
Corpus Christi College (1517)
Corpus Christi was founded by Richard Foxe, Bishop of Winchester, and became a center of humanistic study through the influence of Bishop Hugh Oldham of Exeter. The use of a pelican in the dexter (left-hand from viewer perspective) third of the Corpus arms is based on the medieval idea that the pelican pierced its breast to feed blood to its young. The analogy to the sacrifice of Jesus is compelling. We now know that the pelican is actually thumping its beak on its breast to disgorge food from the pouch under its beak.
Besides Brasenose and Corpus, Lincoln College also uses tierced coats of arms; the episcopal See is in each case in the center pale of the arms. Using the third pale is visually challenging. However, including the arms of a See along with the personal arms of the founding bishop is a worse sin; it is heraldically improper. The distinguished alumni of Corpus include "General" James Oglethorpe, the founder of Georgia, which he envisioned as a haven for English debtors and George II endorsed as a buffer against Spanish Florida. He was a competent military leader, and preserved Georgia from the Spanish. He also brought John Wesley to Georgia. However, Oglethorpe's religious and anti-slavery views made him unpopular among many of the colonists. He returned to England and lived to see his colony become one of the United States.
Christ Church (1546)
Cardinal Thomas Wolsey, the leading churchman in the early years of the reign of Henry VIII, also planned for a college at Oxford to be named Cardinal College. He gave it his (created) episcopal coat of arms, which collects together symbols of his commoner origins. When Wolsey failed to deliver to Henry VIII a divorce of Catherine of Aragon, he fell from favour, Henry in 1546 completed the foundation of the college, which he called Christ Church. It still, nonetheless, bears Wolsey's arms.
Christ Church today is the largest of the colleges and is probably highest on the list of colleges to see, because of its extensive and beautiful gardens, its architectural gems, its strategic location and its association with former don Lewis Carroll (real name Charles Dodgson), author of Alice in Wonderland. The use of its dining hall as a film set for the Harry Potter films has been another draw.
One of Christ Church's alumni was William Penn, who was expelled for his Quaker views (Penn was a friend of the founder of the Friends, George Fox). To settle debts to his Penn's father and create a foreign haven for free-thinkers, Charles II gave the land to Penn that became Pennsylvania. Penn was the first Governor.
Henry VIII was succeeded by his nine-year-old son Edward VI, who became ill during his reign and only lived six more years. During that time he was controlled by his Protestant courtiers. In his will, Edward directed that Lady Jane Grey be named his successor. Her brief reign ended when an effort to capture a possible challenger, Catholic Mary Tudor, led to Mary's being championed and named the rightful heir to the throne. The plotters against Mary I were executed, including eventually Lady Jane and her husband. Lady Jane was venerated for several centuries as a Protestant martyr.
Trinity College (1555)
During the reign of Mary I, two colleges were founded, on land previously occupied by Durham College, which was established by the Prince Bishop of Durham for the novices at his Benedictine monastery. The main buildings of the dissolved Durham College were used as the site for Trinity College, founded by Sir Thomas Pope, who had made his fortune during the reign of Henry VIII taking over and disposing of the monastic lands.
Consumed by guilt at his self-enrichment at the expense of the monks, and not having offspring to pray for his soul, Sir Thomas founded Trinity College to ensure that his soul was prayed for daily, a wish that is still complied with by the college. The arms of the College are those of Sir Thomas.
Three Trinity College alumni became Prime Ministers, including both the man who enabled the American Revolution (Pitt the Elder) and the man whose onerous taxation and land policies united the rebels and ensured they would prevail (Lord North).
Three members of the Calvert family, all Trinity alumni and two of them the first and second Lords Baltimore, created the State of Maryland as a haven for Roman Catholics. The famous MasonDixon line that divided North from South in the Civil War was created by surveyors hired by the Calvert and Penn families to separate Maryland from Pennsylvania. The first Governors of these two states were alumni of two Tudor colleges, Christ Church and Trinity.
St. John's College (1555)
The same year that Sir Thomas Pope founder Trinity College, his friend Sir Thomas White, also childless, founded St. John's College. White was an ally of Mary I in the proceedings against Lady Jane, and was rewarded with a knighthood. White was a clothier and named the college after St. John the Baptist, whose biblical description suggests that he made his own garments. White's executor was an astute investor, and St. John's prospered as the value of Oxford real estate grew.
St. John's alumni include Tony Blair (British Prime Minister, 1997-2007), Lester Pearson (Canadian Prime Minister, 1963-68), and Dean Rusk (U.S. Secretary of State, 1961-69). In 2018, it was at the top of the "Norrington Table", which measures the academic performance of the colleges based on the undergraduate examination results.
Jesus College (1571)
After the death of Mary I, her younger sister Elizabeth I took the throne for 44 years. Jesus College was the only Oxford college founded during her reign; its creation was instigated by the Treasurer of the Welsh St. David's Cathedral, where Edmund Tudor is buried.
Jesus College bears the arms of Yorkshireman Thomas Rotherham, Bishop of Lincoln, and no one is sure why. Most likely when Jesus College was renting space from Rotherham, his arms were recorded and were assumed to be the arms of the college.
Jesus College's Welsh connections are widely known, and Welshman T. E. Lawrence ("Lawrence of Arabia") studied there. So did Yorkshireman Harold Wilson, a brilliant PPE student who then helped write the great Beveridge Report; he was elected Prime Minister four times between 1964 and 1976.
Summing Up
The Tudors added a fine crop of colleges to Oxford. They are at the top of the various criteria for measuring colleges' performance – academic, endowment, architecture, and alumni achievements. From the perspective of an American, these Oxford colleges were key players in the founding of the United States and they defined the dividing line in the Civil War.
Oxford College Arms
Oxford College Arms is a book published in 2018 that provides the stories behind the coats of arms of Oxford University's shield and those of all 38 colleges and six Permanent Private Halls. It was published by Boissevain Books and is distributed by Ingram. It may be ordered through any bookstore or at Amazon.com - https://amzn.to/2S5WQOf - and Amazon UK - https://amzn.to/2CMfj8T.
The six Coats of Arms reproduced by permission above are the work of armorial artist Lee Lumbley, © 2018 by Boissevain Books.