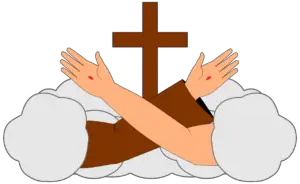 This week's Monday Martyr is Franciscan friar Anthony Brookby (Brockby), who was executed on 19th July 1537, in the reign of King Henry VIII.
In her 19th century book "Faithful unto Death", J M Stone explains that Father Anthony Brookby was a Latin, Greek and Hebrew scholar who was Professor of Divinity at Magdalen College, Oxford, and "celebrated for his eloquence as a scholar". He got into trouble when, during a sermon at the Church of St Lawrence, Brookby "spoke of Henry's new marriage, as the cause of the dreadful evils which threatened to overwhelm the country". He went on to denounce England's break with Rome and the dissolution of the monasteries.
Stone writes of how "The King's advocate" interrupted Brookby's sermon, in an attempt to "frighten him into silence", but Brookby continued. He was, of course, reported to the king and subsequently apprehended.
"A History of the County of Kent" states that Brookby was then "imprisoned and tortured to such an extent that 'for twenty-five days he could not turn in bed or lift his hands to his mouth'". Stone writes that Brookby was "racked with ropes, screws and pulleys, till all his joints were wrenched asunder" and that his body was so severely injured that he couldn't move to eat and would have starved to death if it hadn't been for a pious woman who fed him for twenty-five days.
On 19th July 1537, by order of King Henry VIII, Anthony Brookby was strangled to death in his cell with the Franciscan cord he usually wore around his waist. Stone writes that "God was pleased to work a miracle, as a sign of Father Brookby's holiness" and that his cell was "flooded with an unearthly light". Word got around of this miracle and people came to see, and apparently many were converted.
Image: The symbol of the Order of Friars Minor, the Franciscans, by Piotr Jaworski, PioM.
Sources
Stone, J M (1892) Faithful unto death: An account of the sufferings of the English Franciscans during the 16th and 17th centuries from contemporary records, Kegan Paul, Trench, Trubner & Co., Ltd., p. 76-7.
'Friaries: The observant friars of Greenwich', in A History of the County of Kent: Volume 2, ed. William Page (London, 1926), pp. 194-198. British History Online http://www.british-history.ac.uk/vch/kent/vol2/pp194-198 [accessed 3 July 2023].