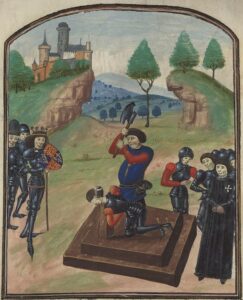 For today's "on this day" event, I'm taking you back to the Wars of the Roses. It's a relevant event because it was a factor in Henry Tudor (Henry VII) becoming the main Lancastrian claimant.
On this day in history, 6th May 1471, Edmund Beaufort, styled 3rd Duke of Somerset, was executed in Tewkesbury marketplace following his army's defeat at the Battle of Tewkesbury. He was buried at Tewkesbury Abbey
Here are some facts about Edmund Beaufort:
Lancastrian Edmund Beaufort was born in around 1438 and was the second son of Edmund Beaufort, 1st Duke of Somerset, and Eleanor Beauchamp, daughter of Richard Beauchamp, Earl of Warwick.
In 1460, Edmund's elder brother, Henry, 2nd Duke of Somerset, left him in charge of the Isle of Wight, but Edmund was captured and imprisoned in Carisbrooke Castle and then the Tower of London.
He was released in 1463 and fled into exile in Scotland along with Margaret of Anjou and other Lancastrians.
His brother, Henry, was captured and executed after the 1464 Battle of Hexham and Edmund fled to France. Henry had been attainted, meaning that Edmund could not inherit the dukedom, but Edmund styled himself 3rd Duke of Somerset.
While in France, he became friends with Charles, Count of Charolais, who became Duke of Burgundy in 1467, and fought in his army.
In 1470, after Yorkist Edward IV was deposed and Lancastrian Henry VI restored, Edmund returned to England.
At the Battle of Tewkesbury on 4th May 1471, Edmund headed Margaret of Anjou's Lancastrian troops, but his army was defeated by Edward IV's troops. Edmund took sanctuary in Tewkesbury Abbey. Edward IV broke into the abbey and captured him.
Edmund's brother, John was killed in the battle, and, as both John and Edmund were childless, their deaths ended the Beaufort male line. After Henry VI's murder on 21st May, Edmund's cousin, Margaret Beaufort, and her son, Henry Tudor, became the main Lancastrian representatives.
Also on this day in Tudor history...
Image: Edmund Beaufort's execution as depicted in the Histoire de la rentrée victorieuse du roi Edouard IV en son royaume d'Angleterre.