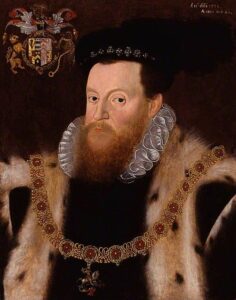 On this day in Tudor history, 5th May 1586, in the reign of Queen Elizabeth I, fifty-six-year-old Sir Henry Sidney died. His body was buried in the Sidney Chapel at Penshurst and his heart in Ludlow, where he lived as President of the Council in the Marches of Wales.
Here are some facts about this Tudor courtier:
Sir Henry Sidney was born on 20th July 1529 and was the eldest son of Sir William Sidney of Penshurst and his wife, Anne Pagenham, widow of Thomas Fitzwilliam.
Sidney started his court career in 1538 as a companion to Prince Edward, son of King Henry VIII, and when Edward became King Edward VI, Sidney served in his privy chamber.
In 1547, Sidney became a Member of Parliament for Brackley, and served as an MP again in 1553 for Kent.

In March 1551, he married Mary Dudley, daughter of John Dudley, Duke of Northumberland, and sister of Robert Dudley, Earl of Leicester.
Sidney was knighted in October 1551.
While his father-in-law was Lord President of Edward VI's royal council, Sidney carried out a diplomatic mission to France.
Despite the fall of his father in law in the succession crisis of July 1553, Sidney survived and was issued with a royal pardon by Mary I. His niece, Jane Dormer, was close to Mary I.
In Mary I's reign, he carried out diplomatic missions.
In 1554, Mary's consort, Philip of Spain, stood as godfather to Sidney's eldest son, Philip.
In 1556, Sidney served as vice-treasurer of Ireland under Thomas Radcliffe, Earl of Sussex, as lord deputy. He acted as Radcliffe's substitute for long periods while Radcliffe was away in England.
From 1558, when Elizabeth I came to the throne, the queen's favourite, Robert Dudley, who was Sidney's brother-in-law, acted as Sidney's patron.
In May 1561, Sidney was appointed president of the council in the Marches of Wales and was sent to Ludlow. However, he was sent to Scotland in July 1562 to postpone a meeting between Elizabeth I and Mary, Queen of Scots.
In 1565, Sidney was made lord deputy of Ireland even though it was a country he said he "cursed, hated, and detested".
He was recalled from Ireland in 1578 and in 1579 joined the queen's privy council, although he preferred to spend his time in Ludlow rather than at court.
Sidney died on 5th May 1586 and his wife, Mary, died just three months later, on 11th August 1586, and was laid to rest with her husband.
He was the father of poets Philip and Robert Sidney, and Mary Herbert, Countess of Pembroke.
Also on this day in Tudor history...