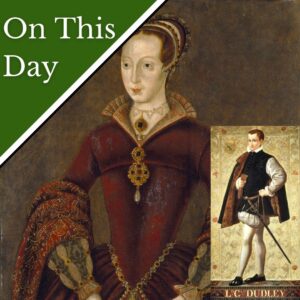 On this day in Tudor history, 25th May 1553, in the reign of King Edward VI, Lady Jane Grey married Lord Guildford Dudley at Durham Place, the Dudley family's London residence.
Jane was the daughter of Henry Grey, Duke of Suffolk, and Frances Brandon, and granddaughter of Charles Brandon, Duke of Suffolk, and Mary Tudor, Queen of France, and Guildford was the son of John Dudley, Duke of Northumberland, and Jane Guildford, and the grandson of Edmund Dudley, one of Henry VII's chief advisors.
As Christine Hartweg, author of "John Dudley: The Life of Lady Jane Grey's Father-in-Law", points out, Northumberland and Suffolk were second cousins once removed and good friends, so it was a natural match, rather than a plot by Northumberland to make his son king. Leanda de Lisle, author of "The Sisters who would be Queen", notes that the marriage match was the idea of Elizabeth Brooke, wife of William Parr, Marquis of Northampton.
They weren't the only couple to get married at Durham Place that day. There was actually a triple wedding, and you can find out more in this video:
Also on this day in Tudor history...