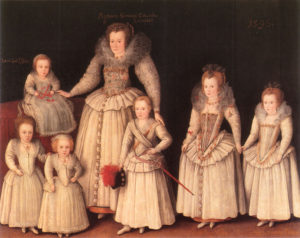 On this day in history, 26th May 1621, Barbara Sidney, Countess of Leicester, first wife of poet Robert Sidney, Earl of Leicester, was buried at Penshurst.
Barbara was born in around 1559 and was the daughter of John Gamage of Coety Manor, Glamorgan,and his wife Gwenllian. After her father's death in 1584, William Cecil, Lord Burghley, as master of the wards, her uncles Sir Walter Ralegh and Lord Howard of Effingham, and her guardian Sir Edward Stradling all got involved in trying to arrange a marriage match for her. She married Robert Sidney, son of Sir Henry Sidney, Lord President of the Council, and brother of the famous Elizabethan poet Sir Philip Sidney. Robert was also a gifted poet and you can find out more about him here.
She accompanied Robert to Flushing, in the Netherlands, in the early 1590s and the late 1590s, when he was governor there, but otherwise, she tended to spend her time at the family home, Penshurst Place, in Kent. The marriage was happy, and the couple had 11 children together, including politician Robert Sidney, and poet Lady Mary Wroth.
Also on this day in Tudor history...
Image: Barbara Sidney with six of her children, painted c.1596 by Marcus Gheeraerts the Younger.