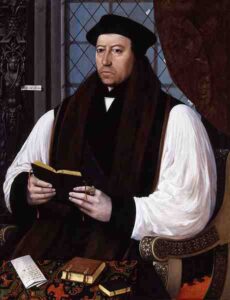 On this day in Tudor history, 10th May 1533, in the reign of King Henry VIII, Thomas Cranmer, Archbishop of Canterbury, opened a special court at Dunstable Priory in Bedfordshire.
The court's job was to rule on the validity of Henry VIII's marriage to his first wife, Catherine of Aragon.
On 5th April 1533, Convocation had given its ruling on Henry VIII's great matter, stating that the Pope had no power to dispense in the case of a man marrying his brother's widow, and that it was contrary to God's law. On 23rd May 1533, Cranmer's court also ruled that the marriage was against the will of God, and declared it null and void.
On 28th May 1533, Cranmer proclaimed the validity of Henry VIII's marriage to Anne Boleyn. It was just in time for Anne Boleyn's coronation celebrations, which began on 29th May with a spectacular river procession.
Also on this day in history...