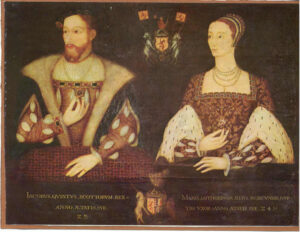 On this day in Tudor history, 9th May 1538, King James V of Scotland married Marie de Guise, or Mary of Guise, by proxy.
James V was the son of King James IV of Scotland and Margaret Tudor, eldest daughter of King Henry VII, and Marie was the daughter of Claude, Duke of Guise, and Antoinette of Bourbon. They'd both been married before. Marie had been married to Louis II of Orléans, Duke of Longueville, who died after less than 3 years of marriage, and James had been widowed just months after his marriage to Madeleine of France.
Their proxy wedding took place at the Château de Châteaudun in the Loire Valley in France. Robert Maxwell, 5th Lord Maxwell, stood in for James. The couple went through another ceremony on Marie's arrival in Scotland the following month.
Marie and James went on to have two sons, who both died young, and a daughter, Mary, Queen of Scots.
Also on this day in Tudor history...
Image: James V and Marie de Guise by an unknown artist c. 1542, Falkland Palace.