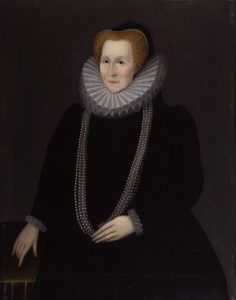 Elizabeth Hardwick, more popularly known as Bess of Hardwick, was the daughter of John Hardwick and Elizabeth Leeke and was born in 1527. The Hardwicks were a prosperous Derbyshire gentry family. Her father died in 1528 and her mother remarried, marrying Ralph Leche of Chatsworth. Bess is today remembered as a builder of great houses, including Chatsworth, Hardwick Hall and Oldcotes. Her name continues to be associated with the rhyme "Hardwick Hall, more glass than wall". She was, in the words of her biographer Mary S. Lovell, "the most powerful woman in the land next to Queen Elizabeth I'". Bess was, according to Lovell, "a serious achiever" and it was through her four husbands that she gradually acquired notable wealth and status.
In 1543, at the age of sixteen, Bess married Robert Barlow. The marriage was childless and Barlow died the following year; it was later recorded that he "died before they were bedded together, they both being very young". Three years later, Bess remarried. Her second husband was William Cavendish, who was twice widowed and twenty years her senior. It is possible that she met Cavendish while serving in the household of Frances Grey, Marchioness of Dorset. In support of this is the fact that the couple married at the Grey family chapel at Bradgate, Leicestershire. The marriage appears to have been a happy one and was blessed with eight children, six of whom survived to adulthood, including their sons Henry, William and Charles. According to Elizabeth Goldring, William and Bess "shared a fierce ambition for social advancement." After their marriage, William sold his lands in the south and bought the Chatsworth estates in Derbyshire. The couple embarked on an extensive rebuilding project, and filled the house with lavish furnishings. This project entailed, in the words of Girouard, an "unrelenting acquisition of property and worldly goods, especially of property in the countryside of her birth, and if possible connected with her family and relatives, [which] suggests the ambition of a local girl to demonstrate that the dim squire's daughter had made good in a sensational way."
It is possible that both William and Bess held devout Protestant beliefs, as reflected in their choice of godparents for their children, which included Henry VIII's daughter Elizabeth, Lady Jane Grey, William Herbert, Earl of Pembroke, and John Dudley, Duke of Northumberland. On the other hand, the Catholic Mary I was appointed godmother to their son Charles. In 1557, William Cavendish died, leading Bess to remarry in view of the unstable financial circumstances in which her husband had died.
Bess's third husband was the wealthy William St Loe, Captain of the Guard to Elizabeth I and Chief Butler of England. His duties at court meant that William resided mainly in London, while Bess occupied herself with the building works at Chatsworth. Shortly after their marriage, Bess was appointed a Lady of the Bedchamber to the queen, although she was dismissed shortly afterwards on account of her involvement in the sexual intrigues of Elizabeth's cousin Katherine Grey. In 1565, William died and Bess inherited the majority of her husband's estate. At his death, Bess's annual income was estimated at £60,000. Two years after her third husband's death, Bess married for the fourth and final time to George Talbot, sixth Earl of Shrewsbury. To further cement the alliance between their families, the earl's son Gilbert married Bess's daughter Mary, and her eldest son Henry married Talbot's daughter Grace. The following year, Elizabeth I appointed Talbot the keeper of Mary, Queen of Scots, after the latter had arrived in England seeking refuge. Mary arrived at the earl's residence of Tutbury in 1569, and remained in Talbot's custody until 1584. When Margaret, Countess of Lennox, visited the Queen of Scots at Rufford in 1574, Bess arranged for a marriage between the countess's son Charles and her daughter Elizabeth; their marriage followed shortly afterwards, to the rage of Queen Elizabeth, who feared their dynastic pretensions. Charles and Elizabeth had a daughter together, Arabella, who was apparently considered as a possible successor to Elizabeth I.
The arrival of Mary, Queen of Scots in their household led to a decline in the relationship between Bess and her husband. Rumours circulated of the earl's feelings for the imprisoned queen, and Bess herself experienced conflict with Mary. She separated from her husband in 1584 and departed for Chatsworth; three years later she embarked on a rebuilding project at Hardwick, most of which was probably completed by 1591. Talbot died in 1590; after his death, Bess concerned herself with the construction of another Hardwick Hall, adjacent to Hardwick Old Hall. In October 1597, Bess moved into Hardwick New Hall. The house's towers featured the emblazoning of Bess's initials
ES
alongside the coronet of a countess, as a symbol of her social status.
In 1603, Bess disinherited her eldest son Henry, with whom she had experienced conflict for decades. She bequeathed the contents of Hardwick Old and Hardwick New Hall and Oldcotes to her second son William. Bess died on 13 February 1608 at the age of eighty-one and her funeral took place at All Saints' Cathedral in Derby on 4 May. Her tomb described her as the "aedificatrix" of Hardwick, Chatsworth and Oldcotes.
Written by Conor Byrne, author of Katherine Howard: A New History and Queenship in England: 1308–1485 Gender and Power in the Late Middle Ages. Conor is a British graduate with a degree in History from the University of Exeter. Conor has been fascinated by the Tudors, medieval and early modern history from the age of eleven, particularly the lives of European kings and queens. His research into Katherine Howard, fifth consort of Henry VIII of England, began in 2011-12, and his first extended essay on her, related to the subject of her downfall in 1541-2, was written for an Oxford University competition. Since then Conor has embarked on a full-length study of Queen Katharine's career, encompassing original research and drawing on extended reading into sixteenth-century gender, sexuality and honour. Some of the conclusions reached are controversial and likely to spark considerable debate, but Conor hopes for a thorough reassessment of Katherine Howard's life. Conor runs a historical blog which explores a diverse range of historical topics and issues. He is also interested in modern European, Russian, and African history, and, more broadly, researches the lives of medieval queens, including current research into the defamed 'she-wolf' bride of Edward II, Isabella of France.
Conor has just completed his Masters.
Pictures: Elizabeth Talbot, Countess of Shrewsbury (Bess of Hardwick) by an unknown artist, National Portrait Gallery; Sir William Cavendish by an unknown artist, National Trust; George Talbot, 6th Earl of Shrewsbury, English School, Ingestre Hall Residential Arts Centre; Hardwick Hall, Wikipedia.