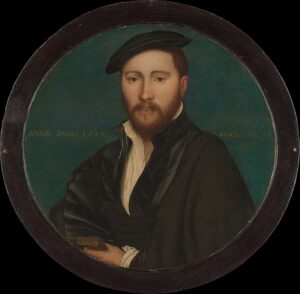 On this day in Tudor history, 30th March 1587, in the reign of Elizabeth I, Sir Ralph Sadler died. He was in his 80th year.
Sadler was a diplomat and administrator who worked as Thomas Cromwell's secretary before being noticed by Henry VIII.
At his death, he was one of the richest men in England.
Here are a few more facts about him…
Ralph Sadler was born in 1507 and was the eldest son of administrator Henry Sadler of Warwickshire and Hackney. Henry Sadler worked as steward to Sir Edward Belknap until 1521. Belknap was one of Henry VIII's privy councillors. He then served Thomas Grey, 2nd Marquess of Dorset.
By 1521, when he was about 14, Ralph Sadler had entered the service of Thomas Cromwell, who ensured that he was taught Latin, Greek, French and Law.
In 1526, when he was about 19, Sadler became Cromwell's secretary, drafting and writing Cromwell's letters and helping with the administration of his household.
By 1529, after eight years of service to Cromwell, he was close enough to Cromwell to be named as an executor in his will.
By 1535, Sadler had married Ellen Mitchell, daughter of John Mitchell of Much Hadham. He met her when she was working as a laundress in Cromwell's household. They had seven surviving children together – four daughters and three sons, Thomas, who must surely have been named after Cromwell, and then Henry and Edward, presumably named after the king and Prince Edward. In 1545, Sadler found out that his marriage was actually bigamous because Ellen's first husband, Matthew Barre, a known drunkard who'd abandoned her and had been presumed dead, was actually still alive and had returned from Ireland. This meant that Sadler's marriage was invalid and his children illegitimate. Thomas Wriothesley, Lord Chancellor, wrote that "Master Sadler took his matter very heavily". In 1546, a private Act of Parliament made Sadler and Ellen's marriage valid.
Sadler came to King Henry VIII's attention after he helped examine Sir Thomas More and John Fisher, Bishop of Rochester. He was made clerk of the hanaper of chancery in 1535 and then, in 1536, a gentleman of the king's privy chamber.
In 1536, Sadler also served as a Member of Parliament for Hindon in Wiltshire.
In 1537, Sadler was sent on a diplomatic mission to Scotland both to improve relations between England and Scotland, and regarding complaints Henry VIII's sister, Margaret Tudor, dowager queen of Scotland, had made about her third husband, Lord Methven. While travelling through the north of England, he also arrested members of the Percy household who had been involved in the recent Pilgrimage of Grace rebellion.
In 1537, Sadler also joined the king's privy council.
In 1539, he was elected as a knight of the shire for Middlesex and in April 1540 he was knighted and made the king's principal secretary along with Thomas Wriothesley.
Also in 1540 he carried out another diplomatic mission to Scotland. His mission this time was to discredit Cardinal David Beaton, Archbishop of St Andrews. He also took a gift of 6 geldings from Henry VIII to James V, but the Scottish king was far from impressed with the horses. Sadler put forward the idea of a personal meeting between James and his uncle, Henry VIII, and when he left Scotland in March 1541 he believed that this meeting was arranged. However, when the English king travelled to York on his progress to the North with his fifth wife, Catherine Howard, the Scottish king stood him up.
While Sadler had been away in Scotland, his former patron and friend, Thomas Cromwell, was brought down by his enemies and was executed on the same day that the king married Catherine Howard.
In January 1541, Sadler, Sir Thomas Wyatt and Sir John Wallop were arrested and imprisoned in the Tower of London. However, Sadler was released after just a few days and he was able to carry on in the king's service, although he was not chosen to accompany the king on the progress to the north that summer.
His biographer Gervase Phillips writes of how Sadler didn't just date his letters, he also wrote the hour, and this gives us an insight into his working life, showing that was up by 4am and often up after midnight. An industrious man.
In late 1541, Sadler was active in gathering evidence against Catherine Howard, and he also tried, unsuccessfully, to discredit the Duke of Norfolk and Bishop Gardiner, both of whom had helped bring down Cromwell the previous year.
In 1543, Sadler was sent to Scotland as the resident English ambassador there following the death of King James V and the accession of the infant Mary, Queen of Scots. William Paget replaced him as the king's secretary during his absence.
From 1543 to 1553 he served King Henry VIII and Edward VI as master of the great wardrobe, and was Henry VIII's go-to financial advisor.
In 1544, he purchased the manor of Standon in Hertfordshire and built a mansion there.
By Henry VIII's death in 1547, Sadler owned properties across 25 English and Welsh counties and his annual income was £372 13s. 4D, which is around £157,000 pounds in today's money.
Sadler was in charge of organising Henry VIII's funeral in 1547 and had been appointed as an assistant to the 16 executors chosen by the late king to form a regency council to help the young King Edward VI govern the country. The king also left him £200 in his will. Sadler supported Edward Seymour becoming Lord Protector and was appointed to the privy council. He was made high treasurer of the army sent to Scotland in September 1547 and fought at the Battle of Pinkie, being created a knight-banneret for his service.
Sadler was one of those who signed the execution warrant of the Lord Protector's brother, Thomas Seymour, in 1549, and in that same year he served against the rebels of Kett's Rebellion. He also supported John Dudley in his coup against the Lord Protector.
In 1553, he signed the letters patent regarding Edward VI's wish for Lady Jane Grey to be his successor, and during Queen Jane's short reign worked for her in Hertfordshire. Due to his support of the Duke of Northumberland and Jane, he lost his place on the privy council when Mary I took the throne. He also lost the office of master of the great wardrobe, and was put under house arrest for a few days, although he was later pardoned. Sensibly, he chose to retire to his estate at Standon while Mary was on the throne.
In November 1558, he was appointed to the privy council of the new queen, Elizabeth I, and served as an MP for Hertfordshire on numerous occasions.
In 1559, he was sent on a mission to Scotland, and he was also made warden of the east and middle Marches, sending reports on what was going on in Scotland to William Cecil, Baron Burghley. In 1560, he helped arrange the Treaty of Edinburgh between England and Scotland.
During Elizabeth's reign, he was against the idea of Mary, Queen of Scots being the queen's successor, and he was also against Elizabeth making a French marriage match.
In 1568, he was appointed Chancellor of the Duchy of Lancaster, an office he held until his death. In that same year he was sent to York to meet with a Scottish delegation following Mary, Queen of Scots escape to England, and he and his fellow commissioners were informed of the Casket Letters. He was involved in the case against Mary from beginning to end.
In 1569, he helped put down the Rising of the Northern Earls and he arrested Thomas Howard, 4th Duke of Norfolk, after the discovery of the Ridolfi Plot.
In 1584, Sadler acted as gaoler to Mary, Queen of Scots, at Wingfield, and then in 1585, at Tutbury, where he allowed Mary to accompany him hawking, which earned him a rebuke from Sir Francis Walsingham. He was, however, in full support of Mary being executed.
Sadler died on 30th March 1587, leaving most of his lands and properties to his eldest son, Thomas, but also leaving some to his son, Henry, and a diamond ring to his daughter, Jane. An illegitimate son, Richard, received an annuity.
He was laid to rest in St Mary's Church, Standon.
Some of Sadler's letters and speeches have been compiled and published in two volumes, along with "The Life of Sir Ralph Sadler" by Walter Scott (see links below). His speeches regarding Mary, Queen of Scots, and Elizabeth I and the French marriage match make interesting reading.
You can read Sadler's letters and speeches at
Also on this day in Tudor history...
Image: A portrait of a man thought by some to be Ralph Sadler by Hans Holbein the Younger.