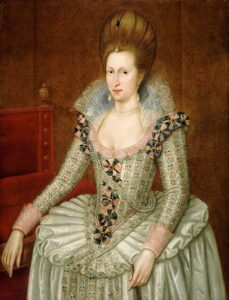 On this day in history, 2nd March 1619, in the reign of King James I, forty-four-year-old Anne of Denmark, died of dropsy and consumption.
Her death may have taken place in the Stuart period, but she was King James's consort from 1589, when he was King James VI of Scotland.
Anne was the second daughter of the late King Frederick II of Denmark, and his wife, Queen Sophia, and sister King Christian IV of Denmark. She married James in a proxy wedding in Denmark in August 1589 – you'll find my video on that below - and then in another ceremony, with James present, in Norway in that November. Following their marriage, Anne suffered a number of miscarriages and gave birth to seven live children. Unfortunately, only three of them survived childhood: Henry, Prince of Wales; Elizabeth, and Charles, the future Charles I. Although Henry, Prince of Wales, survived childhood, he died suddenly aged 18.
Anne began to have problems with her health from 1611, when her chamberlain, Viscount Lisle, recorded that she was suffering from lameness. Sir Theodore de Mayerne, the royal physician, recorded in 1612 that she was suffering from an ulcerated leg and gout, and plagued by abnormal menstruation, constant bleeding. She went to Bath in 1613 and 1615 to take the waters, but by spring 1615 was also suffering from dropsy, the swelling of soft tissues due to the build-up of water. On 2nd March 1619, she died at Hampton Court Palace, a place she'd been too unwell to leave since the previous September. Her son Charles was with her when she died.
According to her biographers Maureen M. Meikle and Helen Payne, her entrails were buried at Westminster Abbey on 5th March and her body lay in state at Denmark House from 9th March to 13th May, when she was laid to rest at the Abbey in Henry VII's Lady Chapel. Her funeral was similar in size and splendour to that of Elizabeth I, and Anne's funeral effigy can be seen in Westminster Abbey's collection today.
The Historic Royal Palaces website says of Anne:
"she was not afraid to challenge her husband and manipulated political factions to achieve her own ends. Once in England, she threw her energy into patronage of the arts, creating a cultural salon that attracted leading painters, writers and thinkers."
It goes on to explain that by Anne's death, she and James had not shared a household in ten years, and that his paranoia regarding illness and death, kept him from visiting her and offering her comfort in her final days. At least she had her son Charles with her, a man who would, of course, become king in 1625.
Also on this day in Tudor history...
Image: Portrait of Anne of Denmark by John de Critz c.1605, from the Royal Museums Greenwich collection.