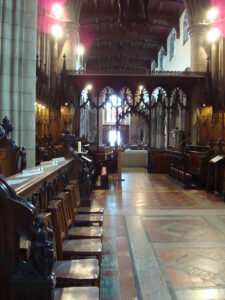 On this day in Tudor history, 14th March 1553, in the reign of King Edward VI, Arthur Bulkeley, Bishop of Bangor, died at his home in Bangor. He was buried in the cathedral quire.
Bulkeley, who was originally from Beaumaris in Anglesey, had been bishop since 1541. He'd previously served as chaplain to Charles Brandon and Thomas Cromwell.
Here are a few facts about him:
He was born in around 1495 and studied both canon and civil law at Oxford.
He served as chaplain to Charles Brandon, Duke of Suffolk, in the early 1530s before moving into the service of Thomas Cromwell, but fell out with Cromwell in early 1537.
Bulkeley was the first resident Bishop of Bangor and the first to come from North Wales.
In 1542, he instructed his priests to use Welsh rather than English in their sermons.
He appears to have embraced reform. His library contained humanist works, and at his death he bequeathed two English Bibles to his cathedral.
Also on this day in Tudor history...
Image: Bangor Cathedral Quire by John Armagh