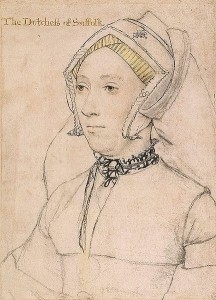 Today is the anniversary of the traditional date given for the birth of Katherine Willoughby (married names Brandon and Bertie), Duchess of Suffolk, and leading patroness of Reform, on 22nd March 1519.
She is someone who appeals to me because of her patronage of the reformed faith and also because of the story of her dog. Martyrologist John Foxe, in his Acts and Monuments, writes of how Stephen Gardiner, Bishop of Winchester, called Katherine's second husband, Richard Bertie, before him in Mary I's reign to ask him about his religion. Here is what Foxe says about Gardiner's words to Bertie:
"But of another thing, master Berty, I will admonish you, as meaning you well. I hear evil of your religion ; yet I hardly can think evil of you, whose mother I know to be as godly and catholic as any within this land; yourself brought up with a master, whose education if I should disallow, I might be charged as author of his error. Besides, partly I know you myself, and understand of my friends enough to make me your friend: wherefore I will not doubt of you.
But, I pray you, if I may ask the question of my lady your wife, is she now as clothed in ready to set up the mass, as she was lately to pull it down, when she caused in her progress, a dog in a rochet to be carried, and called by my name? or doth she think her lambs now safe enough, which said to me, when I veiled my bonnet to her out of my chamber-window in the Tower, that it was merry with the lambs, now the wolf was shut up? Another time, my lord her husband, having invited me, and divers ladies to dinner, desired every lady to choose him whom she loved best, and so place themselves. My lady your wife, taking me by the hand, for that my lord would not have her to take himself, said, that forasmuch as she could not sit down with my lord whom she loved best, she had chosen him whom she loved worst."
So, there we have Katherine Willoughby arranging a mock parade with her dog, who was named "Gardiner", dressed in a rochet, i.e. a white Catholic vestment. As her biographer, Melissa Franklin-Harkrider, points out, this was "to humiliate her religious opponent Stephen Gardiner and voice her opposition to elaborate clerical robes." Not only that, when Gardiner had dined at her home, she had chosen to sit by him and made clear that it was not because she loved him the most, but because she loved him the worst.
Foxe goes on to tell of how Bertie excused his wife, but the couple decided to flee into exile and stay on the Continent for the rest of Mary I's reign; a sensible decision.
Whenever I read about Katherine, I think to myself "I would have got on with this lady". She seems to have had such spirit, a wicked sense of humour and the courage to make her faith obvious. Girl power!
Click here to read more about Katherine's life.
Notes and Sources
Franklin-Harkrider, Melissa (2008) Women, Reform and Community in Early Modern England: Katherine Willoughby, Duchess of Suffolk, and Lincolnshire's Godly Aristocracy, 1519-1580, p. 58.
ed. Cattley, Rev. Stephen Reed (1837) The acts and monuments of John Foxe: a new and complete edition: with a preliminary dissertation, by the Rev. George Townsend, p. 569-570. Read online at https://archive.org/stream/actsmonumentsofj08foxe#page/568/mode/2up